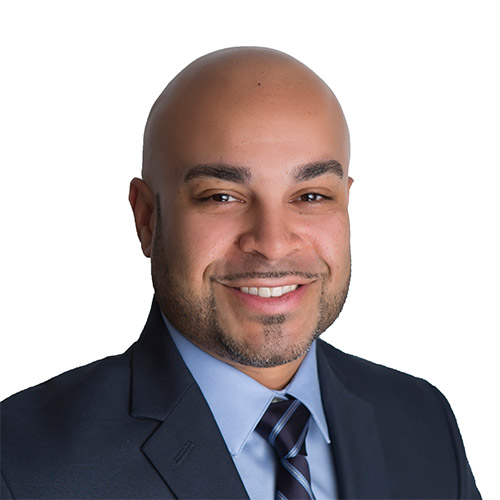 Eric Khan
Mortgage Planner
NMLS# 184348
about me
Eric Khan has been a top loan officer with Total Mortgage since 2009 and has been in the mortgage business for 13 years. He's licensed in 34 states and became a certified mortgage planning specialist in 2015. In addition, he participates in first-time home buyer education classes in Connecticut. He was born and resides in Connecticut and calls Milford home.
Selecting a home loan officer is an important step to every successful mortgage transaction. The "right" mortgage is much more than just locking in a low interest rate. As a knowledgeable mortgage professional, helping clients find the loan that is best for them is his priority. He prides himself on his customer service, product knowledge, and efficiency.
His goal is to make one of the most important decisions of your life an easy one, by using his knowledge of various loans, including those for first time home buyers with minimal savings or seasoned buyers in need of non-conforming or jumbo loans.

Focus on the move, not the mortgage.
Greenlight your loan, and close in 21 days.*
Learn more

About Total Mortgage
At Total Mortgage, we work hard to make it easy. Since 1997, we've combined the personal service and accountability of a local lender with the low rates and product selection of one of the big guys. No matter the loan, we're with our borrowers every step of the way, from application to closing. It's no wonder we are a five-star rated lender on Zillow.
client testimonials
Working with Eric Khan from Total Mortgage was a pleasure. Eric gave me realistic timelines, gave exert advice on the do's and dont's before obtaining a mortgage and explained the home buying process from beginning to end. The Khan team responded to my phone calls/emails within minutes as I never waited on hold, or waited more than an hour for a returned email. One of his team members, Dennis did everything he could to streamline the process for me, from appraisal to communicating with the needed parties and advocating for me while in the underwriting process. This firm also extended my loan rate when there was a barrier to closing on the seller's end. Total Mortgage came in with a competitive rate as well and were willing to reevaluate my rate if I found a better one which gave me more trust in their work. The underwriting process was nerve-racking to say the least but as a first time home buyer, I absolutely appreciated Eric's reassurance when I had questions. I would recommend Total Mortgage and the Khan team for their confidence, experience, speed of processing and I look forward to financing more homes with them in the future!
The services Total Mortgage, LLC provided, particularly through Eric, our mortgage planner, were exceptional. All questions and concerns were responded to very quickly and we felt that the utmost attention was given to us from beginning to end. The entire process went very smoothly and we were able to close quickly without any issues. Our mortgage planner and the underwriting staff worked very hard to accommodate our schedules and any specific issues that arose. As a first time home buyer, I was extremely satisfied and even surprised at how stress-free the total process was. The staff is exceptionally knowledgeable and they offer high quality service to any individual seeking a mortgage. It was a pleasure being able to work with them and I would highly recommend Total Mortgage, LLC to any individual in need of obtaining a mortgage. Thanks again for all your help! :)
I definitely give Eric Khan and his team 5 stars. They made the process as easy as possible and were always quick to answer any of my questions, although I didn't have many because they anticipated my needs to the fullest. I would definitely recommend Eric Khan and his team to friends and family who are purchasing a home!