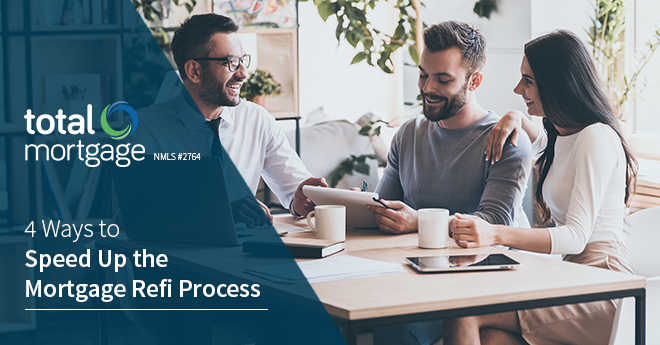 A mortgage refinance makes sense in a lot of situations. If interest rates are historically low and you're struggling to pay your current mortgage payment, refinancing and getting a cheaper rate is a no-brainer.
A refinance also makes sense if you want to ditch your adjustable-rate mortgage and lock in a fixed-rate. And if you're getting a divorce, you'll have to refinance in order to remove your ex-spouse's name from the mortgage loan.
No matter your reason for refinancing, you want the process to move as quickly as possible. Unfortunately, several factors can slow down a refi, but if you know what to expect, you can help your lender facilitate a quick closing.
Here are four simple tips to speed up the mortgage refinance process. 
1. Get your paperwork together ahead of time
Refinancing a mortgage is basically the same process as getting the original home loan. Therefore, your mortgage lender will need your recent paycheck stubs, two year's tax returns, and information about bank accounts and other assets.
For a quicker process, it helps to gather the necessary paperwork ahead of time, and then forward this information along with your application. If the lender get your application today, but it takes you a week or longer to gather the additional paperwork, this prolongs the refinance.
And if the lender starts scheduling other closings ahead of yours, you'll experience further delays.
2. Be honest about your finances
If you're not sure whether you'll qualify for a refinance, mention these concerns early on. Because banks offer a variety of mortgage products, the bank might have a refi program that works perfectly for your unique situation.
Failure to mention potential issues, such as lack of funds for closing or maybe a recent late payment on your credit report, can temporarily halt your refinance because your loan officer might have to start over and find a more appropriate mortgage product.
However, if you're upfront from the very beginning, your loan officer can recommend the best refi option the first time around.
3. Don't change your financial situation
The worst thing you can do is quit your job or take on new debts while going through a mortgage refinance.
Changing employment or getting a new car loan isn't necessarily the kiss of death, but the mortgage lender will have to re-evaluate your circumstances to ensure you still qualify for the refi, which can take a couple of weeks.
4. Cooperate with the appraiser
A mortgage lender will not complete a refi until there's an appraisal of the property. This determines the property's worth, and it's important because lenders won't lend more than the value of the house. An appraiser will contact you to schedule a walk-through.
If the appraiser has difficulty getting in contact with you, or if you're unable to work with his schedule, this can delay closing on your new mortgage loan.
The appraisal takes less than 30 minutes, so do your best to rearrange your schedule. The sooner your lender gets the appraiser's report, the sooner the bank can schedule your closing.
Refinancing is an excellent way to receive better mortgage terms, and it's the only way to remove an ex-spouse or another joint applicant from the mortgage.
Typically, it takes between two weeks and 30 days to close on a refi. However, if the lender gets your paperwork in a timely manner, and if there are no surprises along the way, you'll enjoy a smooth, quick closing.

---
Filed Under: Borrower Tips, General, Refinance
Tagged with: mortgage refinance, quick refinance, Refinance, Refinance fast, refinance rates, refinancing