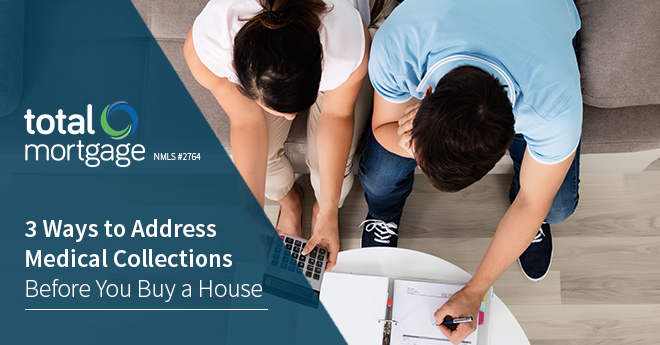 A medical collection on your credit report can be a concern when you begin the process of qualifying for a mortgage.  Medical debt is still debt, which means that it can raise your debt-to-income ratio the same as a car loan. The closer you get to 43% (aka the magic DTI cut-off point), the less likely you are to be approved for a mortgage.
More than 35 million adults struggle with unpaid medical debt, according to NerdWallet, and while the debt doesn't impact your credit score as much as it did before FICO 9 changes, the debt can cause problems when applying for a mortgage. You have three strategies for handling medical collections, depending on how far the debt has gone into the collections process.
Negotiate With the Medical Provider Before Collections
The best option to avoid medical debt hindering your ability to get the mortgage or rate you want is preventing the bill from going to collections entirely. Many medical providers are agreeable to payment plans set over a specified period, such as splitting your payments over a year or paying a certain percentage of your bill each month. Call to discuss your options.
Ask About Financial Assistance
For high-cost medical bills, such as those associated with an emergency surgery, the hospital may have financing programs in place for assistance. The hospital may forgive the medical debt, have grants or other programs in place to cut down your overall bill, or allow you to pay a fixed monthly cost to prevent the bill from going into collections.
Pay Medical Collections
Once your medical bills go to collections, your primary recourse is to reach out to the collection agency and arrange to pay off the debt. Be careful, though. The statute of limitations on medical debt is 3 to 6 years, depending on the state you live in. If you're near the end, collection agencies may double down on their efforts to make you take verbal credit for the debt or to make a small payment, either of which will reset the clock.
Even if you're not nearing the end of your liability, you can likely negotiate a payment that's substantially less than the original medical debt. This is because collection agencies purchase your debt for pennies on the dollar, assuming they'll be able to collect at least part of the debt. If you can offer them a lump sum, they may write off the rest instead of waiting around for monthly payments. Just make sure you get any settlement in writing.
Medical debt impacts millions of Americans, but it doesn't have to stand in the way of home ownership. Even if you don't pay your medical bills directly to your provider or hospital, you can reach out to collectors to resolve the debt before you start searching for a mortgage.
---
Filed Under: Borrower Tips, Saving
Tagged with: dealing with medical debt, debt to income ration medical collections, DTI ratio, getting a mortgage with debt, medical bill negotiation, medical collections, medical collections dti, medical debt, mortgage medical debt