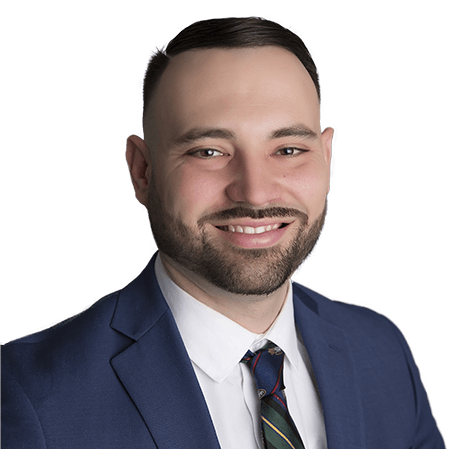 Nick Caparosa
Mortgage Banker
NMLS# 1481262
about me
As a Licensed Mortgage Professional, Nick strives to meet the expectations of all his clients from the initial approval stages, all the way to closing. With the drastic shift in lending guidelines and financial requirements that the industry has adapted, it is vital for clients to be aware of what the mortgage process entails from a documentation aspect, and why. Nick believes that consultation is the most important piece of the puzzle in determining which loan product is most beneficial to each individual scenario.
Whether your scenario is difficult or straightforward, with extra due diligence and careful financial planning I will structure your loan to close smoothly. Nick prides himself on being available for his client's 24/7 to go over numbers and issue updated pre-approval letters. Nick considers himself an advocate for each of his client's files and honors his fiduciary duties at all costs.

Focus on the move, not the mortgage.
Greenlight your loan, and close in 21 days.*
Learn more

About Total Mortgage
At Total Mortgage, we work hard to make it easy. Since 1997, we've combined the personal service and accountability of a local lender with the low rates and product selection of one of the big guys. No matter the loan, we're with our borrowers every step of the way, from application to closing. It's no wonder we are a five-star rated lender on Zillow.
client testimonials
Nick was extremely helpful during the whole mortgage process. He was always an email away. I wil be giving his name to all my friends and family. I truly felt like Nick was working for me during the whole time.
Nick was amazing during our home buying process. Not only did he advise us on what we needed to do to qualify for the mortgage, he also was available 24/7 with whatever questions or concerns we had. He was honest and straightforward throughout the whole process. We had alot of questions, (a million to be exact) and he answered every single one of them and reassured us everything would work out AND IT DID.
It was a pleasure working with Nick, I never had to worry about anything, he was always there anytime I called and was so on top of all the documentation due dates! It was a great experience, all worry free, and you need that type of person behind you when you're buying. A grateful thank you!