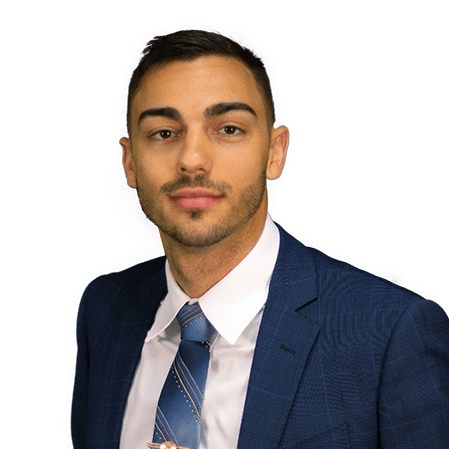 Chris Affinito
Mortgage Banker
NMLS# 1499866
about me
A SUCCESSFUL YEAR FOR CHRISTOPHER…RANKED IN THE TOP 5 PRODUCING MORTGAGE BANKERS WITHIN TOTAL MORTGAGE NATIONWIDE! With over $19 MILLION in closed loans and over 90 units CLOSED in 2018, Chris averaged 1 closing every 4 days in his SECOND full year as a residential loan officer.
Christopher Affinito is one of the more well-known and trusted Mortgage Bankers in New Haven County Area. Since starting his career at the age of 18, Chris has since become one of the Top Producing Mortgage Bankers for Total Mortgage with millions of dollars in closed loans.
Chris is licensed in 15 states and services a wide range of clients from first-time home-buyers to advancing homeowners and real estate investors. Chris currently helps in operating the Branford CT Branch of Total Mortgage.
As the mortgage industry has become more complex with laws and regulations, it has also become more difficult to navigate through the mortgage process. Chris' mission is to provide each and every client with the absolute most outstanding customer service throughout the entirety of the loan process.
Christopher currently resides in Branford, Connecticut where he does a majority of his referral business in New Haven County.

Focus on the move, not the mortgage.
Greenlight your loan, and close in 21 days.*
Learn more

About Total Mortgage
At Total Mortgage, we work hard to make it easy. Since 1997, we've combined the personal service and accountability of a local lender with the low rates and product selection of one of the big guys. No matter the loan, we're with our borrowers every step of the way, from application to closing. It's no wonder we are a five-star rated lender on Zillow.
client testimonials
Chris is hands down the best there is, he is knowledgeable and professional. He took the time to meet with us and answer any and every question we had as well as look at potential numbers and cost, he broke everything down for us. He explained everything in a way that we were able to understand. With the help of Chris and his team we were able to close in 1 month! I would recommend Chris to everyone, he cares about his clients and genuily wants the best for them. I loved working with Chris on the purchase of our first home, and I will work with him again in the future! Thank you Chris for everything you have done for us!
Christopher was extremely helpful throughout the process of my refinance. Mine was not an easy case, yet he was very persistent in working to find a solution that would work for me, and walking me through the necessary steps. He was a key factor in helping me to secure the refinance successfully.
As a first time home buyer me and my husband knew nothing about buying a house or getting a mortgage. We called Christopher even before seeing a house, and he explained the steps and what to expect. After finding a home, Chris helped us through the entire process of applying for the mortgage. We were stress free! Chris kept in contact through text, emails, and phone calls. We were able to get in touch with him all hours of the day, night, and weekends. He made everything easy, from signing documents, to submitting documents. If you are looking for someone that's great at what they do Chris is who you need.