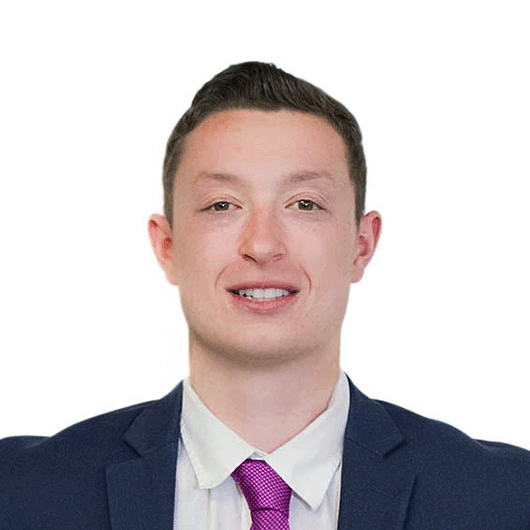 about me
Dominic DeMilo joined the mortgage industry at just 19 years old during his sophomore year of college. He wasted no time and immediately became a licensed mortgage banker. His license spans several states where he is committed to assisting a wide range of clients with their home financing needs.
Dominic is a member of our results-driven shoreline Connecticut team that closed $80 million in 2020. In just his first year of being a licensed mortgage banker, he helped over 25 families become homeowners totaling a closed loan volume of $9 million. Following a productive 2022, Dominic was also named Total Mortgage's Rookie of the Year.
Dominic graduated Magna Cum Laude from Providence College and received a B.A. in Political Science. He also obtained certificates in business and public administration. Dominic is a dedicated member of both the Shoreline Connecticut Chamber of Commerce and the Greater New Haven Chamber of Commerce. In his spare time, he enjoys playing hockey, boating, traveling, and trying new foods. Dominic is also an avid Providence Friars and New York sports fan.
client testimonials
Dominic is very knowledgeable and puts his clients needs first. He communicates effectively and is always available.

Dominic's communication from day 1 with me made the all the difference to make this transaction happen, his professionalism shinned through during very the first phone call I had with him. His support team is fantastic.

The communication was excellent. Would highly recommend the Mortage Company to any of my clients and friends. Thank you

Dominic is always one step ahead and is very responsive to me as well as the buyers. I look forward to working with Dominic on many more transactions!

Dominic was very patient and always clear with what was needed. He made a very long and difficult process easy to understand.

Dominic was always available, always present in the whole process, he tells you what is convenience for you,l really appreciated working with him

From the beginning, Dominic was professional, transparent, and informative. Always kept us on the know and what to expect. There were no surprises during this arduous process. He made the experience a positive one. I will be recommending Dominic to anyone that has to go on this confusing and crazy journey of buying a house in today's market.

Dom was just great from beginning to end. Answered all of our calls and questions each time, he kept us up to date and ahead of all the tasks we needed to complete. Friendly, attentive and prompt. He was wonderful to work with and we were lucky to have him!

Dominic was super helpful and quick when it came to the approval process for getting a mortgage. He answered all questions I had in a timely manner and helped me buy my dream home!

Dominic was super responsive and was very helpful throughout the whole process, especially since we were first time home buyers! Highly recommend!


Focus on the move, not the mortgage.
Greenlight your loan, and close in 21 days.*
Learn more

about total mortgage
At Total Mortgage, we work hard to make it easy. Since 1997, we've combined the personal service and accountability of a local lender with the low rates and product selection of one of the big guys. No matter the loan, we're with our borrowers every step of the way, from application to closing. It's no wonder we are a five-star rated lender on Zillow.
Licensed State
Not Licensed State