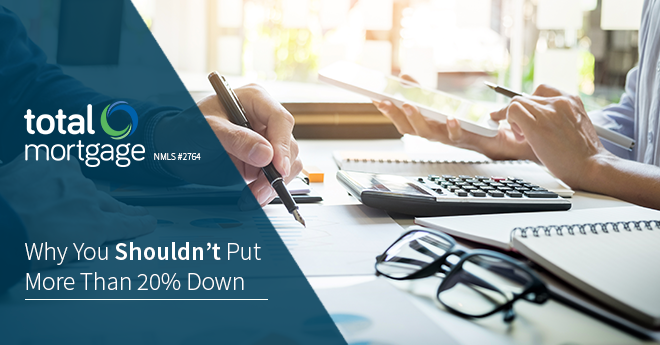 If you have good credit, most mortgage lenders aren't going to require a 20 percent down payment. Today, you can get a mortgage with as little as a three percent to five percent down payment, which puts homeownership within reach for many. However, if you have a huge bankroll, you might consider putting down 20 percent or more.
There's no denying the advantages of a larger down payment. You'll have instant equity in the house, you won't have to pay private mortgage insurance, and sometimes, a higher down payment helps you negotiate a better interest rate. Some money experts recommend putting down as much as you can afford; but before emptying your savings account, there are good reasons not to put down 20 percent.
1. You're able to maintain a cash reserve
I've known people who've emptied their savings account to buy a house. To each his own, but if you spend all your cash reserves purchasing a house, there's a good chance you won't have any money left for an emergency.
If you can afford a 20 percent down payment and still have money in the bank, go for it. On the other hand, if you don't have a huge cash reserve, it might be wiser to only put down the minimum required by your lender and keep some of your cash on hand. Remember, as a homeowner you're responsible for any maintenance and repairs on the property. If you spend all your money buying a house, you might have to rely on credit if problems occur with the property.
2. You can use the extra cash to pay off debt
If you stick with a smaller down payment, you'll have available cash for other uses. A mortgage lender will check your credit and evaluate your debt before approving your mortgage application. Credit card debt and existing loans reduce your purchasing power because these debt payments increase your debt-to-income ratio. So, if you want to purchase a more expensive house, you need to reduce your debt.
Rather than spend all your cash putting down 20 percent, you can put down less money and then use some of your available cash to pay off credit cards and other loans before applying for a mortgage. This tactic not only increases your credit score, it frees up cash in your budget, which helps you qualify for a larger mortgage amount.
3. You can buy a cheaper house and make improvements after moving in
Instead of wiping out your savings to buy your perfect, dream home, consider buying a cheaper, perhaps slightly older home and keep your remaining cash in a rainy day fund. Some people prefer new construction, move-in ready homes, but these properties have a hefty premium.
For example, in my local market, a new construction 2,000 square-foot house has a price tag of roughly $300,000. At five percent down, it'll cost $15,000 just to move into the house. Yet, you can buy an older house of comparable size for only $200,000, dropping the minimum down payment to $10,000. A difference of $5,000 may seem minor, but you have to look at the big picture. The secon d property might be older and need some updating, but since it costs $100,000 less than a newer property, you'll have a considerably cheaper mortgage payment. You can use this monthly savings to fix up the property over time, and maintain your $5,000 cash reserve.
Ultimately, you have to decide how much to put down when buying a house. Just know that homeownership is a costly responsibility. Unexpected expenses are inevitable. Therefore, it makes good financial sense to keep some cash on hand in case of an emergency.

---
Filed Under: Cash-Out Refinance, mortgage monday, mortgage-interest-rates