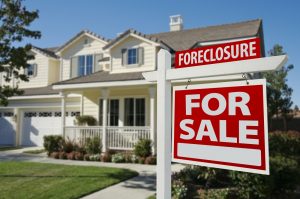 Fannie Mae takes many precautions to decrease the chance of properties with their mortgages foreclosing. However, it isn't possible to stop all foreclosures.
So when it inevitably does happen, the best thing is to sell that home quickly.
That's the goal of the Fannie Mae HomePath program—to resell foreclosed homes in a timely manner so as to minimize the negative impact on communities.
How foreclosures negatively affect communities
1. Lower housing values
It's been demonstrated that foreclosures bring down property levels of nearby homes. It's different in every area, but the most common reasons for this are "distress sales" of foreclosed properties, the eyesore abandoned homes can create, vandalism, and increases in crime.
2. Harm the broader economy
Falling home values kicks off a domino effect that ultimately impacts the whole economy. Consumer spending and new construction both take hits, which spurs jobs loss and unemployment. The snowball gets bigger as more homes are then foreclosed, leading to less spending and investment all around.
3. Decrease revenue for local governments
Property tax is a major source of revenue for local governments. So when foreclosed homes bring down the value of surrounding properties, the local government can see significant losses. In addition, local governments will often have to pay for the upkeep of foreclosed homes until they're sold.
Clearly, foreclosed homes create many far-reaching problems.
How the Fannie Mae HomePath helps
1. Online directory
With thousands of homes in an online directory, the HomePath program allows buyers to easily browse available foreclosed homes. All of the filters a buyer would want, such as price, number of beds/baths, property type are available under advanced search. There are also pictures with every listing, making it easy for buyers to quickly get a feel for the property.
2. Upkeep
Maintenance standards are another important aspect of the HomePath program. All properties are kept in line with local codes, and requirements and are maintained so as to be ready for sale at a moment's notice.
Fannie Mae works with maintenance workers on the local, state, and national level to make sure all properties get the care they need, from removing trash, to securing the property, and seasonal care like winterization.
To ensure the upkeep is done in line with quality standards, Fannie Mae has their own agents and quality control specialists inspect the properties, as well as third party inspectors. Not only does this upkeep help homes sell faster, but it also supports neighborhood stabilization.
In the past, real estate owned (REO) properties—such as foreclosures—have had a stigma attached to them that can dissuade buyers from purchasing. The Fannie Mae HomePath program, with its focus on upkeep and selling homes quickly, has done much to reverse that image and make foreclosures a serious consideration among homebuyers.

---
Filed Under: Uncategorized