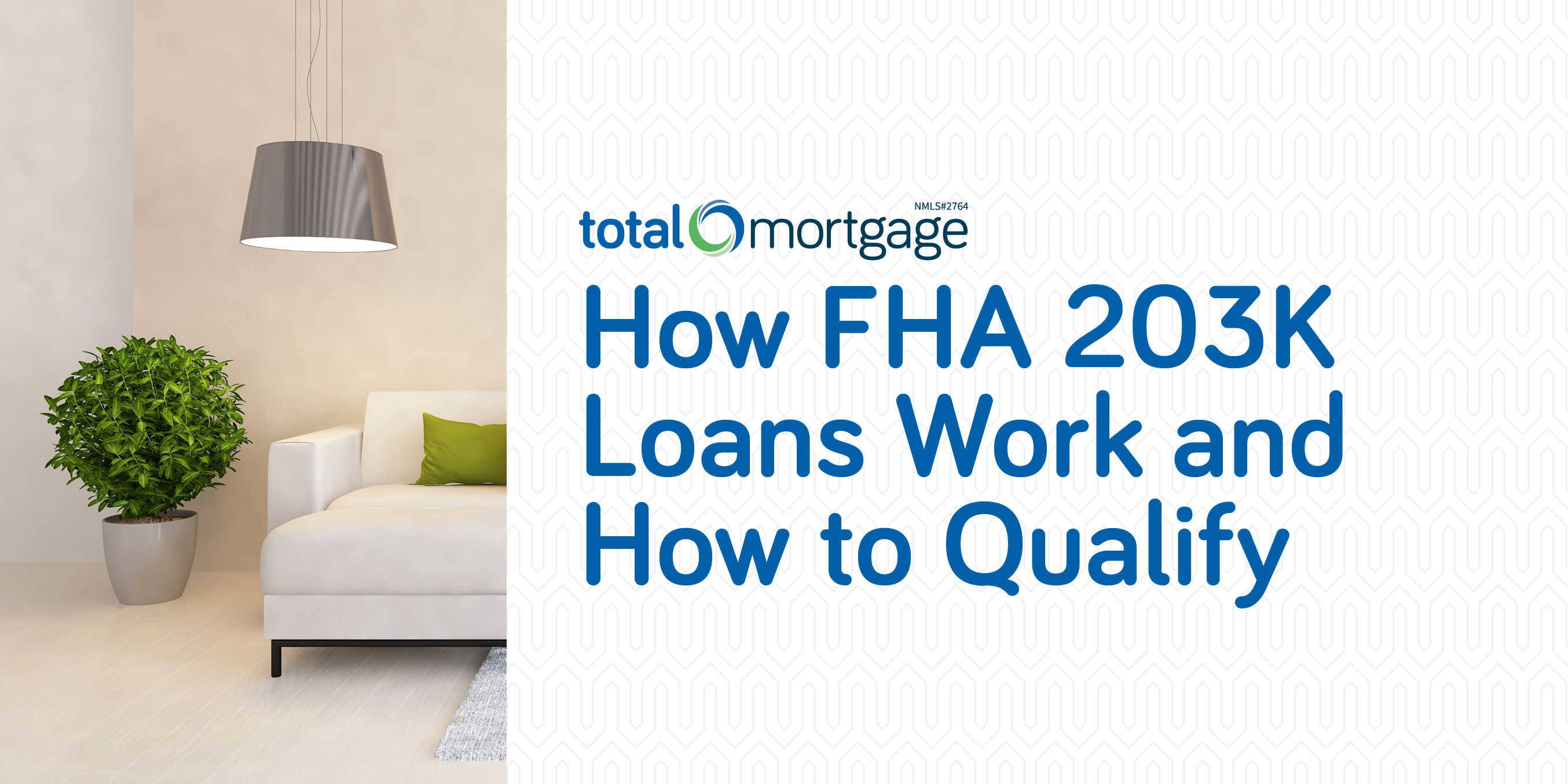 For buyers working with a budget or current owners looking to upgrade their homes, an FHA 203k loan comes with many benefits. Not only do FHA 203k loans wrap your renovation costs and mortgage into one payment, but they typically have easier income and credit requirements as well as lower down payment options.
Here's what you need to know about FHA 203k loans and how to use this type of financing on your home improvement projects.
How Does an FHA 203K Loan Work?
An FHA 203k loan is a mortgage backed by the Federal Housing Administration (FHA) that allows borrowers to purchase a home, refinance, or even cover the cost of renovations. FHA 203k loans take the form of single long-term, fixed, or adjustable-rate loans.
With FHA 203k loans, the cost to rehabilitate or repair a property is included in the mortgage. Essentially, renovation costs are added to the purchase or refinance loan.
There are also two types of FHA 203k loans with different sets of rules:
Standard 203k loan: The standard 203k loan is for extensive work. The minimum amount that can be borrowed is $5,000. The U.S. Department of Housing and Urban Development (HUD) also requires that a 203k consultant must be hired to oversee the project to ensure FHA standards are met.

Limited/streamlined 203k loan: This option allows you to finance up to $35,000 into your mortgage for home renovations with no set minimum. This does not cover any major structural work.
What Are the Requirements for an FHA 203K Loan?
FHA 203k loans are meant to encourage homeownership for low-to-moderate-income families and enable them to improve older properties that need repairs. Because these loans are backed by the government, FHA 203k loans may have more lenient qualification requirements than a conventional mortgage and are subject to FHA loan limitations.
FHA 203K Loan Requirements
Credit score: You can qualify for an FHA loan with a credit score as low as 500, but this depends on your lender. Some may require a minimum credit score of 580 or even 620.
Down payment: The minimum down payment for an FHA 203k loan is 3.5 percent if your credit score is 580 or higher. If your credit score is under 580, then the minimum down payment is 10 percent.
Debt-to-income (DTI) ratio: Your lender will examine your DTI, which should be 43 percent or less.
Maximum loan amount: You can borrow up to 110 percent of what the home will be worth after renovations, or the home price plus renovation costs.
Occupancy: You're required to live on the property that you're purchasing or refinancing with the FHA 203k loan.
Interested in applying for an FHA loan? Find a Total Mortgage branch near you and discuss your options with one of our loan experts.
What's the Minimum Down Payment for an FHA 203K Loan?
The minimum down payment for FHA 203k loans depends on your credit score.
If you have a credit score of 580 or higher, then the minimum down payment must be 3.5 percent of the loan amount. 
If your credit score is between 500 and 579, then the minimum down payment is 10 percent.
Can You Get Down Payment Assistance With an FHA 203K Loan?
You can receive 100 percent of your down payment as gift money from family or an approved organization. Some non-profit state and local government agencies may provide down payment money in the form of a grant for FHA 203k loans.
The seller or other interested parties are not allowed to provide down payment assistance with FHA 203k loans.
Can You Use an FHA 203K Loan for an Investment Property?
FHA 203k loans are limited to primary residences, which means you must live in the home. However, there is a way around this.
The only way to use an FHA 203k loan for an investment property is to purchase a multifamily property with two to four units. You'll also need to occupy one of these units for at least one year, but you are free to rent out the others.
Should You Get an FHA 203K Loan?
Whether you should get an FHA 203k loan depends on your unique situation. If you're hoping to use the loan on an investment property, then the property must be two to four units and you must live on the property for at least one year.
There are also restrictions on the kinds of renovations and repairs that can be made depending on the type of FHA 203k mortgage. 
Most non-structural and non-luxury renovations include:
Making the home more energy efficient
Installing or replacing flooring
Landscaping
New plumbing, electrical, or sewer systems
Fixing health or safety hazards
Improving functionality or curb appeal
This list does not include all projects that can be done with an FHA 203k loan.
Explore FHA 203K Loan Options from Total Mortgage
If you're making renovations or repairs to your current or future home, then an FHA 203k loan could be the right fit. However, you must meet certain requirements to qualify and there are restrictions on the kinds of projects you can complete. 
There are also two different types of FHA 203k loans. The one you choose depends on what you plan to have done to your property.
Total Mortgage has been helping homeowners and buyers get the financing they need for over 25 years. Find an expert near you or apply for a loan online.

---
Filed Under: purchase