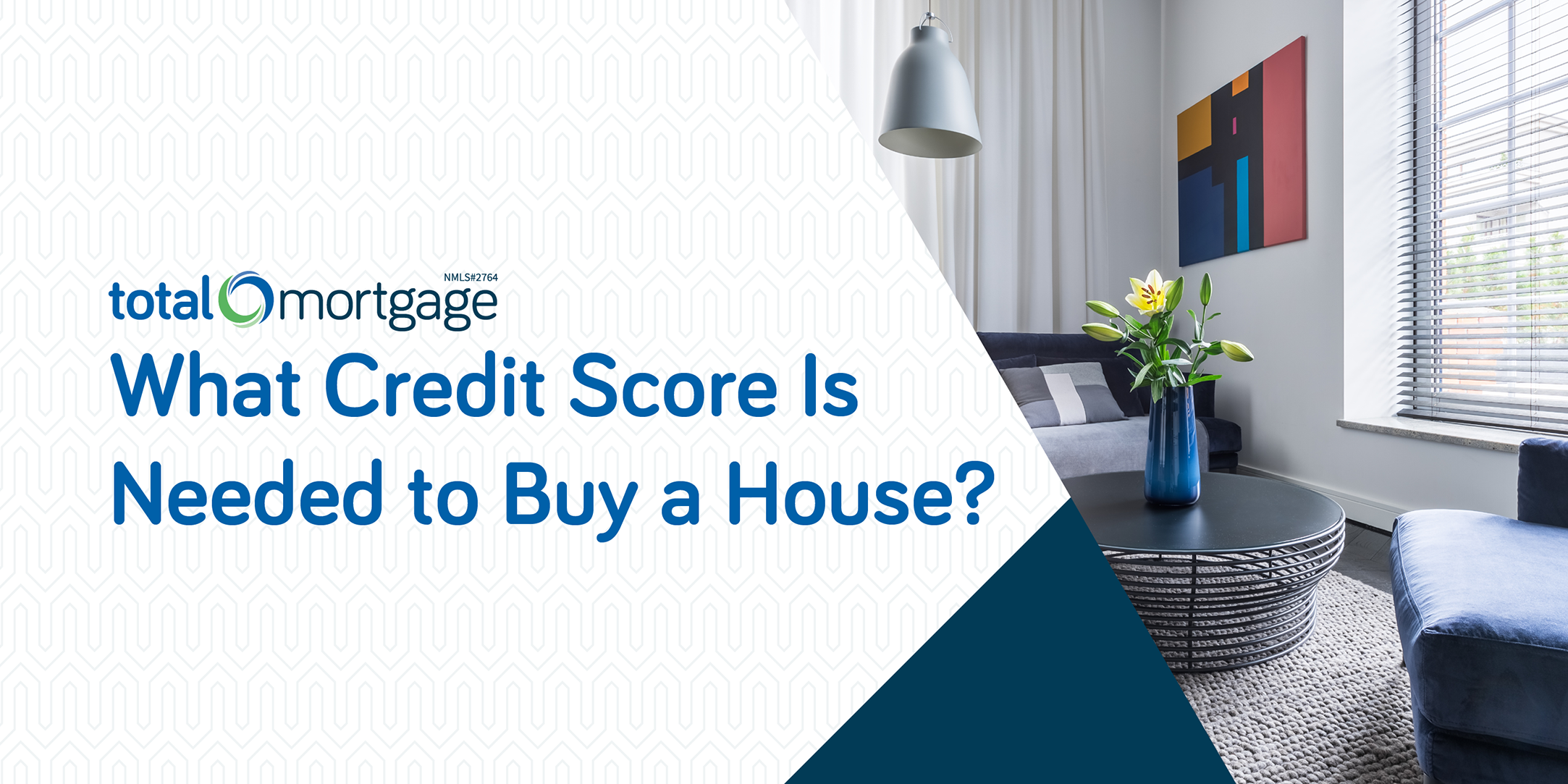 When the time comes to purchase a house, your credit score will play a critical role in your lender's decision. So what's the ideal credit score? The short answer: it depends.
Various factors determine what credit score is needed to buy a house – and different mortgage products each have their own unique credit score minimums worth considering.
In this article, we'll cover the minimum credit score requirements for a variety of loan options to ensure you're fully prepared to take on the mortgage process.
What Is the Lowest Credit Score Needed to Buy a House?
Each of the three major credit bureaus – Equifax, Experian, and TransUnion – maintain consumer credit scores known as FICO scores. When lenders evaluate a prospective buyer's financial history and level of risk, they often look at all three FICO scores before making a decision.
A buyer's results will ultimately determine whether they qualify for a mortgage loan. Buyers could qualify with a credit score of 640 or even lower, in some cases. Both credit and FICO scores range from 300 to 850, so depending on your loan product of choice, anything is possible. Consult with a professional to learn more.
Generally speaking, a 640 credit score or higher should be enough to qualify for one of the major mortgage options. For some mortgage products, however, a lower credit score will suffice. Prospective homebuyers with credit scores around 580 can take advantage of Federal Housing Administration (FHA) loans, which offer more lenient requirements.
Even if your credit score is below 580, the FHA won't definitively exclude you. Homebuyers with FICO scores less than 580 may still qualify if they make a 10 percent down payment on their mortgage loan.
Keep in mind that the higher your credit score is, the higher your chances of getting a better interest rate will be. A loan expert near you would be happy to explain the details further.
Types of Loans and Credit Scores Needed to Buy a House
FHA loans aren't the only mortgage type with specific credit score details. Let's break down some other options.
VA and USDA Loans
Veterans may use a U.S. Department of Veterans Affairs (VA) loan to purchase a new home or refinance an existing mortgage. However, the VA has not established a credit score threshold to qualify for a VA loan, as this is set on a lender-by-lender basis. 
Veterans could use the minimum credit score that most lenders adhere to, which is 620, as a gauge. The VA relies on its own "residual income guidelines" relative to a borrower's debts and expenses to ensure veterans don't take out a loan they can't afford.
The United States Department of Agriculture (USDA) also has its own criteria to qualify for a loan. However, similar to the VA, the USDA steers clear of a specific credit score requirement.
Experian states that most lenders facilitating USDA-backed loans look for a credit score of at least 640. According to the Mortgage Research Center's USDALoans.com, borrowers with a credit score of 640 or better could qualify for the USDA's automated underwriting system.
Potential borrowers with a credit score below that level might be able to qualify for the USDA's manual underwriting standards.
Conventional Loan
Conventional loans could either be conforming or non-conforming. This determines whether it meets the Federal Housing Finance Agency's (FHFA's) criteria regarding income and debt, covering loan size.
The loan size limit as of 2022 is $647,200 but could be as high as $970,800 in pricier neighborhoods.
Whether you're purchasing a new home or refinancing a mortgage, you must have a minimum credit score of 620 to qualify for a conventional loan. This higher requirement exists because conventional loans are not backed or secured by the government. 
Jumbo Loan
Jumbo loans have more stringent standards considering that lenders inherit greater risk given the size of the loans. As the name suggests, jumbo loans are larger compared to other mortgages and are meant for homes with prices on the higher end of the spectrum. 
Whether you're shopping in an expensive neighborhood or a bidding war has driven up the price of a property, a jumbo loan could be the best product for you. 
Given the size of the loan, the credit standards are higher.
The minimum credit score requirement for a mortgage up to $1 million is 700, and it goes up from there.
For a loan between $1 million and $1.5 million, you'll need a credit score of at least 720. And for a mortgage between $1.5 million and $2 million, the credit score minimum rises to 740.
FHA Loan
An FHA loan is one backed by the Federal Housing Administration. There are credit tiers for this type of loan product based on the buyer's amount toward the down payment. 
You will need a FICO score of at least 580 plus a down payment of 3.5 percent of the purchase price. 
You will need a FICO score between 570 and 579 plus a down payment of 10 percent of the purchase price. 
An FHA loan also has other requirements, including a debt-to-income ratio of less than 43 percent. The buyer is expected to purchase mortgage insurance, live in the home as their primary residence, and show proof of regular income and a job. 
Total Mortgage works with borrowers across the United States. Find a loan expert today to get started with an FHA loan.
Understanding How Your Credit Score Is Determined
Credit scores let lenders assess the risk associated with a prospective borrower. A FICO score further analyzes that data to determine the likelihood that a consumer will be able to repay their debts on time or late. 
The credit score reflects the information in each of the three credit reports, while a FICO score, in particular, is split into five separate groups with the following impacts:
Payment history (35 percent) 
Amounts owed (30 percent) 
Credit history length (15 percent) 
New Credit (10 percent) 
Credit mix (10 percent) 
What Is the Perfect Credit Score?
Many potential homebuyers want to know whether 680 is a good credit score or if 700 is a good credit score.  
And while it is probably high enough to qualify for a mortgage, there is still room for improvement. According to Experian, the top FICO score falls between 800 and 850, a range it deems "exceptional."
What Is a Fair Credit Score?
For potential homebuyers managing a 640 credit score, you should know that this FICO score falls into a range that is deemed fair, between 580 and 669.
What Is a Low Credit Score?
A low FICO score falls below the 670 level, according to Experian. Let's further drill down these scores into various categories according to the following table: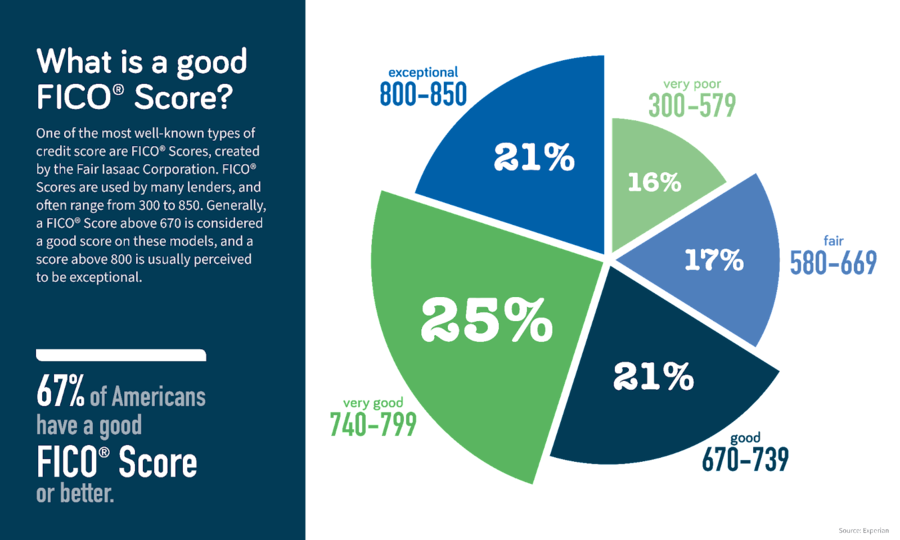 Ways to Increase Your Credit Score
Prospective homebuyers whose credit score needs improvement or who are just looking to lock in the best possible interest rate on a mortgage could take specific steps to improve their credit score.
Reduce your credit card balances: The best credit scores boast a utilization rate of less than 10 percent. 
Refrain from applying for other credit in the months before attempting to secure a mortgage.
Find the Type of Loan That's Best for You
Total Mortgage is ready to help you with your mortgage needs. Whether you are buying a home, refinancing, or seeking a home equity loan, Total Mortgage can get you a free rate quote today.

---
Filed Under: purchase