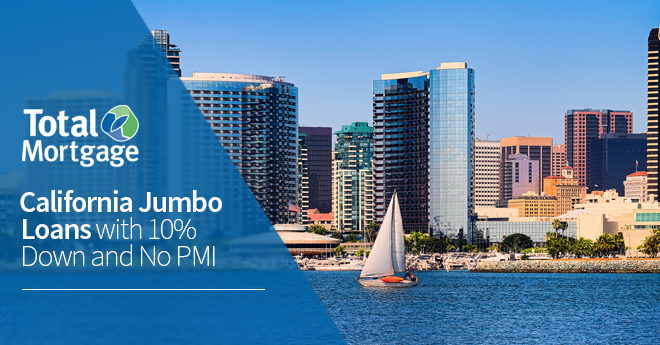 California Mortgage Program Offers Borrowers Incredible Benefits
California residents are now eligible for our new, exciting mortgage program that will allow borrowers to take advantage of some great mortgage benefits. Under Total Mortgage's new California mortgage program, eligible borrowers can secure loans with higher loan-to-value ratios without having to pay private mortgage insurance, even if they are rolling their first and second mortgages together.
Less stringent Loan-to-Value ratio requirements
Has your home lost some value over time? No problem. Our unique California mortgage program will allow homebuyers to secure financing up to $750,000, even if their loan-to-value ratio is as high as 90%. Rate/term refinances are also eligible for this program as long as the property has no more than two units and is occupied by the owner.
No private mortgage insurance
Private mortgage insurance is an inconvenience, to say the least. It can add up to hundreds of dollars per month, especially if you have a jumbo loan. Our California mortgage program allows borrowers to avoid paying any private mortgage insurance, even if their loan to value ratio exceeds the usual 80% threshold established by most lenders.
Combine your first and second mortgages
There is no substitute for simplicity. If you have a second mortgage and would like to roll your first and second mortgages together, then you're in luck. With our groundbreaking California mortgage program, borrowers can roll first and second mortgages together up to the maximum loan amount of $750,000.
Act now to save big
Whether you are buying a home or looking to refinance your current mortgage in California, Total Mortgage's California mortgage program is the smart financing solution. California mortgage rates are still near their record lows, so call 877-868-2503 or apply today to lock in your low interest rate.
---
Filed Under: What's new at Total Mortgage
Tagged with: cali mortgage rates, california, california jumbo loans, california mortgage program, california mortgage rates, california real estate, down payment california, jumbo loans, mortgage rates california, no pmi