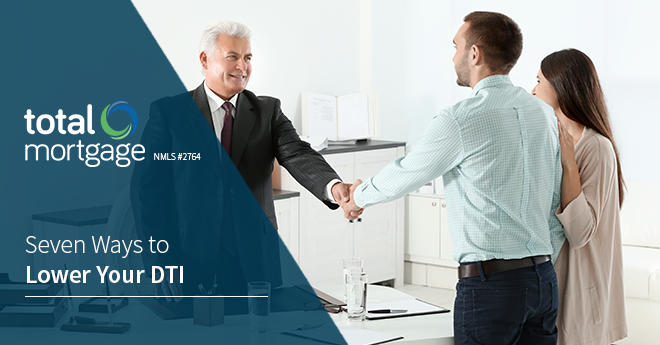 Your debt-to-income (DTI) ratio is one of the three most important factors that lenders look at when deciding whether or not to approve you for a mortgage (the other two? Your FICO score and the loan-to-value ratio, which varies with the price of the house you plan to buy).
DTI is considered especially important in determining your ability to repay the mortgage rusbank.net.
It is computed with your total monthly debt payments and gross monthly income (before taxes are taken out). It is expressed one of two ways, either including your estimated monthly mortgage payments ("back end") or your debt obligations before you take out the mortgage ("front end").
In 2014, an important new rule promulgated by the Treasury Department had a major impact on DTIs. Known as the QM Rule and designed to toughen ability-to-repay requirements, it had the effect of limiting DTIs to 43 percent. That means borrowers with DTI's above 43 won't get loans.
In practice, lenders are actually even more conservative; the median back-end DTI is about 37 percent for approved mortgages. That means most monthly debt payments including mortgage payments total no more than 37 percent of total monthly gross income.
DTI can be a killer for young adults making sizable student loan payments or for consumers who have run up debt. However, even those with long-term debt payments like student loans, auto loans, or back taxes can get a mortgage if they improve their DTI.
Here are five steps anyone can take to lower their DTI.
1. Pay off your smallest debts first.
Even a hundred dollars on a credit card requires a minimum monthly payment, which will increase your DTI. Pay these off in full. Dollar for dollar, you will get more debt reduction with this tactic than any other.
2. Refinance high APR credit card debts with a low APR card.
APR means annualized percentage rate—the actual interest you pay over a year. It's a way to look at the interest you are paying without focusing on special introductory rates, which can be misleading. Many lenders offer cards with very attractive APRs to customers who have good credit ratings.
If you have cards that are past their introductory period, though, you may be paying a higher APR than you need to. Contact one of the major credit card lenders to see what they will offer in the way of a lower APR card. When you find one, consolidate your high APR debts under your new low APR card. You will reduce your monthly debt load and pay at a lower rate of interest. In a year, review where you stand. If the marketing rate that made your new card attractive has expired, consider finding a new one and consolidating again.
3. If you thought you outfoxed the dealer and got a great deal on a new or used car, check again.
You might be paying interest at a rate much higher than you need to. The median APR for car loans today is 4.38% for a 60-month loan (five years) on a new car and 5.2% on a 36-month loan a (three years) for a used car. Refinance your car with the most competitive rate you can find from an online lender.
When you refinance, you can increase the length of time of the loan if you have had your car for a reasonable length of time. Lowering the interest and stretching out the principal over a longer period of time could significantly reduce your monthly payments.
4. Refinance long-term debt to lower your monthly debt payments by stretching out the term of your loan and take advantage of lower rates.
If you graduated more than three years ago, chances are good you can find a better interest rate today, depending on your credit rating. Remember, if the interest rate is the same, when you refinance a loan to lengthen its term, you will be paying more in interest over the long term than you would have if you had not refinanced.
5. Borrow from your 401K retirement plan at no interest to pay off smaller debts or pay down larger ones.
As you make future monthly contributions to your plan, a portion will go towards paying off the amount you withdrew. You will also have to pay taxes on your withdrawal. Repay the withdrawal as soon as you can to keep your retirement savings on track.
6. Get Government help.
In an effort to encourage new renters to convert to buyers, several government programs exist to help. Federal Housing Administration (FHA) loans allow borrowers to get into a home with a high debt to income ratio, allowing for a slightly higher mortgage payment amount than the buyer might normally qualify to pay. Veterans may be able to get assistance through a Veterans Administration (VA) loan, which allows the total amount of housing expense plus recurring debt to be as much as 41 percent.
For homeowners interested in refinancing, the government offers help through the Home Affordable Refinance Program (HARP). Before seeking this type of loan, borrowers should gather as much information as possible to help prove they're working hard to pay down all debts. You'll also need to have been on time for all of your payments for at least the past year and have credit in good standing. HARP primarily targets homeowners who have a small amount of equity in their existing homes or who currently owe more than their home is worth. Borrowers may have to check with several lenders to find one who offers HARP as a refinancing option.
For those with high debt-to-income ratios, landing a home loan may be challenging, but it's far from impossible. By lowering debt and working directly with lenders to learn about all the options available, borrowers can get into a home and begin to work on paying off all of those debts to make the next purchase easier.
7. Increase your down payment.
While this may not be a viable option for someone with a high amount of debt, you can boost your chances by putting up a large down payment. The less you have to borrow, the less strict the requirements, increasing your chances of success. A large down payment shows the lender that you've invested in the property, as well, reducing the risk that you'll abandon the property before the mortgage is paid in full.
The bottom line
Take a hard look at your debt situation before you start applying for a loan. Compute your DTI. Count only income you can document with pay stubs or tax returns. If you find yourself close to the 37 percent threshold, take steps now to reduce your monthly debt payments.

---
Filed Under: Cash-Out Refinance