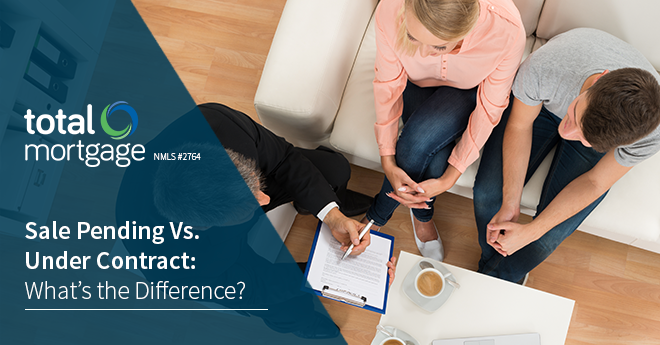 Whether you're driving around a neighborhood or clicking through listings on Zillow, at some point you're almost guaranteed to stumble across the perfect home: large yard, updated kitchen, hardwood floors—and a sign that says "sale pending" or "under contract."
So what do those mean, exactly, and do you still have a chance with the house of your dreams? We'll cover the differences and what they mean for you.
How real estate transactions work
The homebuying process isn't quite as simple as agreeing on a price, shaking hands, and calling in the moving truck. In most cases, the transaction is actually between 3 parties, not 2—the seller, the buyer, and the bank financing the loan. All 3 need to be satisfied with the deal before it moves forward.
That's why before we get into the terminology, it helps to understand the steps of your standard real estate transaction.
The buyer decides on a home.
The buyer makes a formal, written offer.
The seller accepts the offer. (In reality, there may be negotiations on everything from price to the length of time required to close.)
Both buyer and seller sign a contract, which is typically contingent on additional factors like financing and inspection results.
The buyer's earnest money is deposited into an escrow account or equivalent.
The buyer goes to a lender to line up a mortgage.
The home is inspected (for the buyer's sake) and appraised (for the lender's sake).
The deal is closed.
Keep in mind that this is a fairly simplistic version of events. There will also be things like title searches and settlement agreements to go over, and securing financing is a fairly involved process all on its own.
Sale pending vs. under contract
The trickiest part about understanding the difference between sale pending and under contract is that the terminology and meaning tend to vary from region to region.
Generally speaking, it's safe to assume that they are intended thus:
Under contract. The buyer has made a formal offer and the seller has accepted. So, step 4 in the above list.
Sale pending. The home is under contract and all contingencies have been removed (that is, the requirements met). That puts this term at about step 7, above.
Basically, a sale pending property is much closer to being sold than an under contract property.
It's important to note, though, that in some markets, agents will use these terms interchangeably in either meaning, often because their MLS (multiple listing service) doesn't have a tag for both statuses.Or, they may use different terms altogether. Depending on where you're searching, you may see "contingent" or "option" to mean similar things.
When in doubt, ask your real estate agent or reach out to the listing agent. Either will be happy to set you straight.
Can I make an offer on a sale pending or under contract home?
Let's break it down.
Sale pending: maybe not. At this point, many seller's agents don't see the point in continuing to accept additional offers, but some might. It is still technically possible for the sale to fall apart.
Under contract: definitely. Unless there's a clause preventing it in the contract, seller's agents will continue to accept back-up offers, and even continue to show the home. This is because at this stage, the deal can easily fall through.
Either way, it's worth a try. Until all the closing paperwork is signed and dated, the house could still be yours.
How often do sale pending or under contract deals fall through?
This, again, is one of those things that will vary by region and depend on the market. Since most MLSs don't track deals that fall through, there also isn't much in the way of data available.
But two real estate agents in this forum thread weighed in based on their personal experience and placed the rates at 10-20% and 15-25%–not bad odds at all.
There are tons of reasons that could cause a deal to fall apart. Some of the most common include:
A surprise lien on the property. These will generally be found during the title search and can completely scuttle a sale.
A low appraisal. If it turns out the home is worth less than the loan amount, the lender is almost guaranteed to want out of the deal, leaving the buyer to either pony up the difference in cash or walk away.
Problems discovered during the inspection. Often this leads to renegotiation, but it's always possible for the buyers to back out if the issues are large enough.
The buyer's DTI ratio. The more debt a buyer has, the less they can take on. If the sale of their current home fell through, for instance, buying a new home often pushes their debt to income ratio into a range lenders aren't comfortable with.
However, if the status of the home is truly sale pending—as in, all contingencies have been met and the deal is clear to close—the odds of it falling apart are much smaller. Though closing issues are still fairly common, at this stage both buyer and seller are generally very motivated to get the sale over with already, and if they can make it work, they probably will.
The bottom line
Okay. To sum it up:
Yes, there is a difference between sale pending and under contract.
No, it may not be a huge difference, especially depending on your own regional real estate quirks.
Yes, there's still a chance you'll be able to snap up a house that's already been claimed, so to speak.
In the end, you can't lose anything by making an offer on a home you love, so give it a shot.
---
Filed Under: Uncategorized