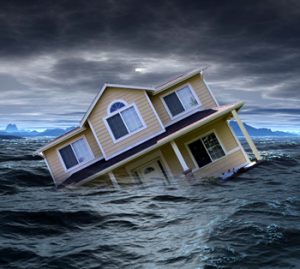 Debating whether to refinance? If you owe more on your mortgage loan than what your home is worth, you might be running out of time.
That's because the federal government's Home Affordable Refinance Program — better known as HARP-  is scheduled to expire at the end of 2015.
And if you don't refinance before that government program goes away, you might struggle mightily to convince mortgage lenders to refinance your underwater home loan.
The underwater challenge
HARP is so important for so many homeowners because of the continued problem of underwater home loans. Mortgage loans are considered underwater when homeowners owe more on them than what their homes are worth. For instance, a homeowner with a single-family home valued at $200,000 is underwater if that owner still owes $250,000 on her mortgage loan.
Most mortgage lenders require homeowners to have at least 20 percent equity in their homes before they'll grant their requests for a refinance. Underwater homeowners don't have that 20 percent equity. In fact, they have negative equity.
The number of underwater homeowners has fallen as housing prices have gradually rebounded since the days of the Great Recession. But plenty of homeowners still owe more on their loans than what their homes are worth. In May of this year, Zillow reported that 9.7 million U.S. households were still stuck with underwater mortgages.
HARP, though, provides a source of relief for underwater homeowners who want to refinance: The government program is designed to allow such owners to refinance to mortgage loans with lower interest rates. Such a refinance can save homeowners hundreds of dollars a month, depending on their current mortgage interest rate.
This is why it's so important for these underwater homeowners to refinance now, before HARP disappears.
How HARP works
HARP provides a financial incentive to encourage mortgage lenders to refinance the loans of homeowners who owe more on these loans than their home's current values. To participate in HARP, you might first contact a mortgage lender. Private lenders originate HARP refinances, not the government.
You will, though, have to meet certain rules to qualify for a HARP refinance. First, the mortgage must be owned or guaranteed by Freddie Mac or Fannie Mae, and this mortgage must have been sold to Fannie or Freddie on or before May 31 of 2009.
You must be current on your mortgage payments at the time of the refinance, and you must have no late mortgage payments in the previous 12 months.
Should you take advantage of HARP to refinance your underwater home loan? Not surprisingly, there's no one answer to this question. You'll have to determine how much money a refinance can save you each month.
Remember, refinancing is not free, even when a HARP refinance. The Federal Reserve Board estimates that a refinance can cost from 3 percent to 6 percent of your outstanding mortgage-loan balance. If you owe $200,000, refinancing can run from $6,000 to $12,000. Make sure that your monthly savings allow you to pay back those costs quickly.
If you are looking to refinance your current loan, rates are at 14 month lows.  Find out today how much the experts at Total Mortgage can save you.

---
Filed Under: Refinance
Tagged with: credit score, HARP, home, loan, Mortgage, mortgage loan, owning, Refinance, underwater