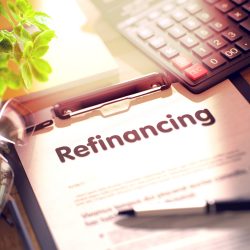 If you're waiting for the best time to refinance your mortgage loan, now might be the time to jump start the process. Refinancing replaces an existing mortgage with a new one. It's a common practice in the lending world, yet a refinancing doesn't always make good financial sense. To determine whether this is the right move, you need to understand the benefits of getting a new loan. For that matter, here are five compelling reasons to refinance your mortgage loan.
1. You don't plan on moving anytime soon
There is no rule that says you can't move soon after refinancing a mortgage loan. However, given how refinancing involves fees — about 2 percent to 5 percent of the mortgage balance — it makes sense to stay in the house until you recoup the refinancing costs. For example, if you pay $4,000 in closing costs and refinancing reduces your mortgage loan by $250, it'll take roughly 20 months to break-even.
2. You need to lower your interest rate
Currently, interest rates remain under 5 percent. If you're paying a higher rate, now's the time to refinance and take advantage of a lower rate. Reducing your interest rate can lower the monthly payment and free up cash for other purposes. Use extra funds to pay off credit card debt, build your savings account or plan for retirement.
3. You need to tap your equity
Depending on your amount of equity, refinancing is one way to get your hands on cash. A cash-out refinance is when borrowers refinance and borrow against their equity. Some lenders will let you borrow up to 80 percent of your equity, and these funds can be used for a variety of purposes, such as debt consolidation, home improvements, wedding expenses, college tuition, etc. Just know that the amount borrowed is tacked onto the mortgage balance, which increases how much you owe and can potentially raise the monthly payment.
4. You want a fixed-rate
Some borrowers choose an adjustable-rate mortgage because these loans feature lower interest rates. However, after the initial fixed-rate period — between three to five years — adjustable-rate mortgages reset every year. And with each adjustment, your interest rate can increase or decrease. This results in unpredictable mortgage payments. If you don't want to deal with fluctuating rates and payments, refinancing to a fixed-rate keeps your rate the same for the duration of the mortgage term.
5. You need to remove a name from the mortgage
If you get a divorce or split ways with a co-borrower, refinancing is the only way to remove a person's name from the mortgage loan. Understand, however, that in order for you to keep the mortgage in your name only, you'll have to qualify for the mortgage on your own. This means having a high enough credit score to get a mortgage by yourself, as well as the income to make home loan payments on your own.
Final Word
Refinancing is an excellent way to lower a mortgage payment and receive better loan terms. However, refinancing resets the term. The benefits of refinancing are undeniable; but if you're several years into a mortgage term and you're scheduled to pay off the home soon, a refi might not be the best move unless you're prepared to add another 15 or 30 years to your mortgage.
Are you looking to refinance your current mortgage?  Rates are close to the lows of the year, and you may be able to lock in a low rate for many years to come. Call us today to get a free rate quote or to speak with one of our licensed mortgage professionals.  

---
Filed Under: Refinance
Tagged with: borrowers, debt, equity, fixed rate, interest rate, lending, loan, Mortgage, Refinance