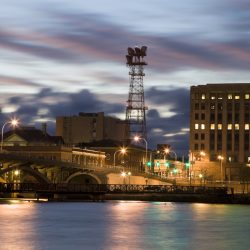 Home of the airbrush and the electric garage-door opener? That's Rockford, Ill., the most-populous city in Illinois outside the Chicago metropolitan area.
Traditionally a manufacturing town, Rockford experienced many factory closures throughout the 1980s and was forced to deal with subsequent job losses. Parts of the city, especially the west side, began to experience severe urban blight with homes left abandoned and a high crime rate. In recent years, however, the city has made a concerted effort to renew its downtown area and to resolve its social problems.
According to the Wall Street Journal, Rockford originally benefitted from the housing bubble of the early 2000s, because people began to consider the smaller city a more viable market than the expensive Chicago. When the bubble burst in 2008, many homeowners in Rockford saw their homes depreciate to a value lower than the money they owed on their mortgages. As of 2013, this was true of about 32 percent of the Rockford metropolitan area's mortgages.
Mortgage rates are at 14 month lows, see how much you can be saving on your home loan today!
Unfortunately, Rockford is an example of a housing market struggling to recover from the 2008 recession, a situation exacerbated by its 12 percent unemployment rate as of March 2014 (the national rate is currently 5.9 percent). The median sales value of Rockford's homes fell further in 2014, depreciating 2.1 percent to $70,000.
Despite the city's struggles, Rockford is home to some pockets of nice housing in historic neighborhoods, including Haight Village, Churchill Grove and Brown's Hills- Knightsville. More suburban-style homes can be found north of the central city in Loves Park. The median home sales value there stands at $88,000, according to Trulia.
What kind of mortgage payments are people used to in the city of Rockford? Using the Trulia mortgage calculator to estimate 30-year fixed-rate mortgage payments, you can expect to make payments of about $348 per month. This is based on the national average mortgage rate of 4.14 percent and an average Rockford property valued at $70,000.
Are you looking to refinance your current mortgage?  Rates are close to the lows of the year, and you may be able to lock in a low rate for many years to come. Call us today to get a free rate quote or to speak with one of our licensed mortgage professionals.  

---
Filed Under: Rates
Tagged with: chicago, chicagoland, credit, finance, home buying, illinois, loan, Mortgage, Mortgage Rates, real estate, Rockford