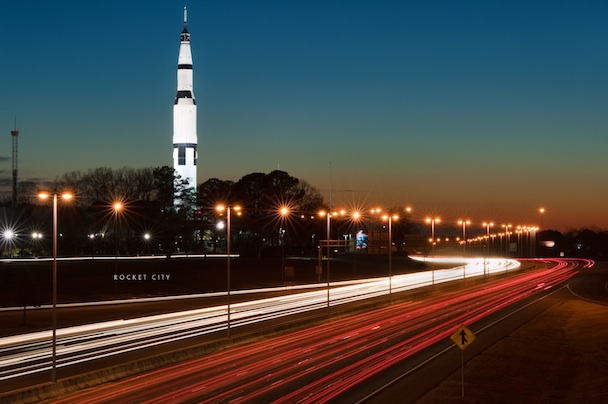 Huntsville, Alabama is all about things that go "Boom".  What does that mean?  It means that many of the things made here will make that particular sound.   Although Huntsville itself is a relatively quiet place, it is home to the Redstone Arsenal (where many of the missiles and rockets used by the United States were developed, including those used in the "Space Race) and to NASA's Marshall Space Flight Center, where many of the astronauts sent into space by the United States were trained, including the men who landed on the Moon and where the design and construction of space vehicles and space stations such as the Saturn V rocket, the Space Shuttle, Skylab and the U.S. modules of the International Space Station took place.
Although a cartoon coyote might not be seen strapped to a rocket trying to chase after a bird, models of Apollo program rockets that helped land humanity on the Moon can be found on the Marshall Space Flight Center grounds.  But elsewhere in Montgomery buyers will find quiet and peaceful neighborhoods, great amenities and best of all, affordable real estate.
Looking to purchase a home in Montgomery?  A variety of real estate, ranging from McMansions to antebellum architecture to simple brick one-family homes and brand new planned communities. The average listing price in Montgomery was $211,499, according to Trulia.  For a $350,000 property in Montgomery, monthly mortgage payments will range anywhere from $1,200 to $1,450 each month with twenty percent down, according to Zillow. Interest rates varied from 4.14 percent to 4.38 percent on a 30 year mortgage.
Don't pay too much for your home.  Apply today or call to speak with one of our home loan experts – 877-868-2503
Huntsville enjoys a pleasant, quiet and family-friendly atmosphere with a variety of options.  If one has the means to live here, the top line options in Huntsville can be found in Indian Ridge,  Grande Highland Estates, Hawks Ridge, Twelve Stones, Legacy Preserve and Oakhurst, with average listing prices of around $500,000 and up.  If one is inclined to look for options that are more affordable yet midrange, those can be found in Whitesburg Estates, Clearwater, Providence, Little Mountain and Cobblestone Cove.
Other great neighborhoods can be found in Renaissance, Marina Park, Hampton Ridge, Mcmullen Ridge, Legendwood, Lake Forest and Olde Cobblestone. For those who are looking for safe neighborhoods that are close to shops and restaurants,  Madison, Monrovia, Hampton Cove, Toney, and Harvest rank among great neighborhoods that are quiet enough yet far enough from the hustle and bustle, if it can be called that.
So, if one is looking for a quiet community that has a lot of history and a lot of quiet behind it, Montgomery is the place to go.  Oh, and don't worry about the booms or the rockets; Huntsville has yet to have a launch go awry over the city.  Huntsville still retains enough appeal as a great place to look up at the stars and wonder where one can go from there.

---
Filed Under: Rates
Tagged with: Alabama, Huntsville, Mortgage, Rates, real estate