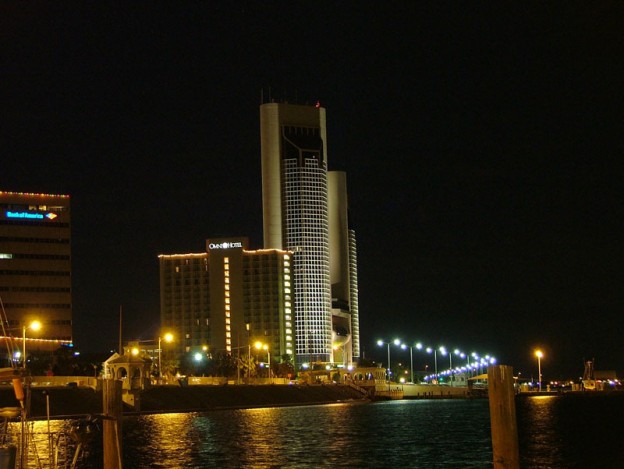 Corpus Christ, Tex.,sometimes called the "Texas Riviera" due to its beautiful coastline; this was the bay Álonso Alvarez de Pineda must have laid admiring eyes on all those years ago when he discovered the area on the feast of Corpus Christi in 1519.
The town may not quite live up to the Riviera nickname, but it does have nice beaches and the sunsets are incredible. It also boasts seafood, sailing and some hot shorefront properties. On the downside, there's subtropical humidity, the occasional hurricane and those infamously polluting Corpus Christi oil refineries.
Looking for an upmarket home in paradise? Check out Padre Island. Located off the Corpus Christi shore, the island is home to high income residences and fancy condominiums. The beaches and sand dunes are exquisite and the homes are fairly expensive as a result, averaging $340,190.
You'll be in good company if you nest on Padre Island: sea turtles lay their eggs here! For an average home, expect to make monthly payments on a 30-year fixed-rate mortgage somewhere between $1,339 and $1,482. This is based on a Zillow sample of mortgage rates from the area ranging from 4.25 percent to 5.14 percent.
Thankfully, the average listing price for a home in Corpus Christi is significantly lower than on Padre Island – only $242,936, according to Trulia. Corpus Christi's unemployment rate has recovered significantly since the onset of the 2008 recession and this has driven a more vigorous housing market, the median price of homes increasing by 13.5 percent over the last year.
The cost of living in Corpus Christi remains low compared to other parts of the country, but it's surprisingly higher than its biggest neighbor, San Antonio. A 30-year fixed-rate mortgage on an average Corpus Christi home will require monthly payments ranging from $956 to $1,014.
Besides Padre Island, some good neighborhoods to check out include: Flour Bluff, Calallen and the Bay Area. While the latter two are good for middle class families, Flour Bluff may have more affordable prices.
Central City is often ideal for first time buyers because prices aren't too high and you get a lot of room for your money. As for the suburbs, just over the Nueces Bay Causeway is Portland, a very safe neighborhood, home to some great beaches and a good place for spotting herons, pelicans and even ibis.
So next time you're yearning for some time on the French or Italian Rivieras, why not try Texas? If you're anything like the sea turtles that return to the exact same Corpus Christi beach every nesting season, you may not want to leave.
Total Mortgage has some of the lowest mortgage rates in the country. 
Apply
 today and find out how much you could be saving on time and money.

---
Filed Under: Rates
Tagged with: corpus christi, corpus christi texas, Mortgage Rates, Real Estate Overview, texas mortgage rates