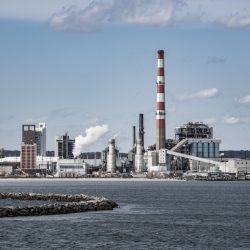 Bridgeport, Connecticut has long been associated with manufacturing and its proximity to the New York City area. Bridgeport enjoyed early success driven by the shipbuilding and whaling industries due to its centralized location on the Long Island Sound. Bridgeport became a significant manufacturing center on the East Coast.
De-industrialization occurred in the 1970's and 1980's and the result was a loss of jobs and population that stunted the city's development occurred. Bridgeport still enjoys much of the classic architecture, museums, theaters, and parks (including one designed by Frederick Law Olmstead, designer of New York's Central Park) and combined with a new set of plans for revitalization and civic improvements, Bridgeport is looking to change itself beyond just a bedroom community to New York.
Fortunately enough, housing prices in Bridgeport are relatively affordable and provides access to relatively stable economy that Connecticut has, particularly in finance and in healthcare. According to Trulia, the average listing price in Bridgeport was $182,413. For a $300,000 property in Bridgeport the monthly payments for a thirty year mortgage will range from $1,100 to $1,250 each month with twenty percent down, according to data published by Zillow. Interest rates for the loans surveyed by Zillow will range from 4.03 percent to 4.15 percent.
Bridgeport provides a variety of neighborhoods, some historical, some that were recently developed. Bridgeport's main high-end neighborhood is the Black Rock neighborhood, but buyers can also look at the The Hollow, North End, Brooklawn- Saint Vincent, North Bridgeport for affordable single family options. As far as starter options that provide options for commuters, the South End and the East Side are close to Metro-North for an hour and a half ride into Grand Central Station.
But also keep in mind that Connecticut is very expensive; its taxes and real estate prices rank among the highest in the nation. Surrounding communities such as Westport, Greenwich, Fairfield, and Darien will usually run around $1 million plus or higher. Bridgeport is also great for the ferry service that connects to Port Jefferson, NY, which permits direct access to Long Island, albeit a trip that takes over two hours.
But overall, Bridgeport is a town that is known for affordability. New Haven, Branford, Shelton and Trumbull are also affordable towns that are the more affordable surrounding areas that can also provide options for those who are looking to move to the area.
While Connecticut might not seem to be affordable, just remember that Bridgeport is not only a city that is undergoing redevelopment but is also affordable yet close to a major area. Such areas are fast becoming a premium, especially given the very high prices prevalent in the area. For those looking to not spend the big bucks look at Bridgeport as an option.
Are you looking to refinance your current mortgage or buy a new home?  Rates are close to the lows of the year, and you may be able to lock in a low rate for many years to come. Call us today to get a free rate quote or to speak with one of our licensed mortgage professionals.  

---
Filed Under: Rates
Tagged with: Bridgeport, Connecticut, CT, home buying, Mortgage, Rates, real estate