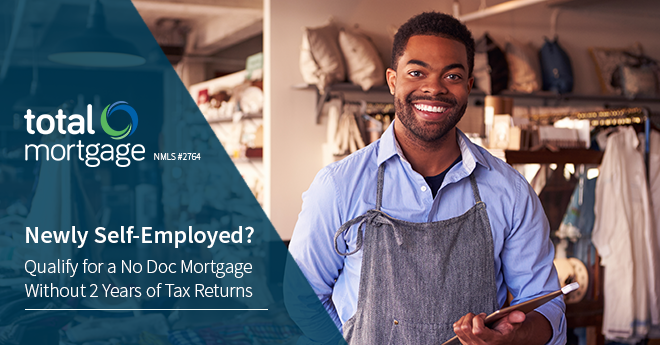 Making the transition from cubical-denizen to boss of your own business can be incredibly rewarding. However, one of the challenges that new business owners face is qualifying for a mortgage.
Without two years of tax returns to prove income to lenders, it can be difficult to finance a new home or refinance an existing mortgage. Fortunately, that's where no doc (or no document) loans come in, as well as a few other ways around this requirement.
The No Doc Loan
This option (also sometimes called a stated income or low doc loan) doesn't require the normal sort of documentation of most loans. These are generally intended for people who don't have tax forms from an employer or who want their information to remain confidential. Depending on the situation, you will still need to provide some evidence of income. Because no doc loans are risky for lenders, your interest rate will be much higher than usual and  you may have to look around at multiple companies before someone will take a gamble on you. You're unlikely to find these loans at the big banks.
To have a realistic chance of being approved, you will need to have an excellent credit score. According to SF Gate, "most lenders consider credit scores of 740 or higher to be in the "good" to "excellent" range, so borrowers seeking no doc loans should have a score at least that high." If your credit score isn't where it should be, you will need to make every possible effort to increase it before applying for this type of loan.
The No Ratio Loan
This is another variety of doc loan. It's primarily for people who don't want to disclose their income or have complicated and fluctuating sources of income. While most borrowers must have a debt-to-income ratio below 43% to qualify for a loan, a no ratio loan means that lenders won't take your DTI into account.
To qualify for a no ratio loan, you will also need a solid credit score, and it's ideal to have significant assets as well. With this type of loan carrying considerable risks for lenders, you can expect to pay a higher interest rate than one where you prove your income. Nonetheless, it is a viable option in some cases.
Other Ways to Improve Your Chances
Even without documentation, there are three other tactics that should make you look more appealing to lenders.
1. Offer a large down payment. This will give you considerable equity in your home, showing lenders that you're committed and have adequate financial backing. Consequently, this minimizes their level of risk.
2. Having an emergency fund with an accessible stash of money is helpful. In the event that your new business suffers a loss or isn't immediately profitable, this will ensure that you have the necessary financial backing to make your mortgage payments. This should ultimately make you appear as less of a liability to lenders.
3. Paying off your debt before applying for a loan. This can include knocking out credit card bills, student loans, and car payments. Doing so will lower your debt-to-income ratio and let lenders know that you can funnel more money into paying off your mortgage, which lowers their risk.
Although you're likely to encounter more obstacles without two years of tax returns, it's still definitely possible to get mortgage. You just have to understand what lenders are looking for and let them know that you have enough financial support.

---
Filed Under: Buying/Selling, Purchase
Tagged with: loan with out employment documentation, no doc loan, no doc mortgage, no documentation loan, no documentation mortgage, self-employed mortgage