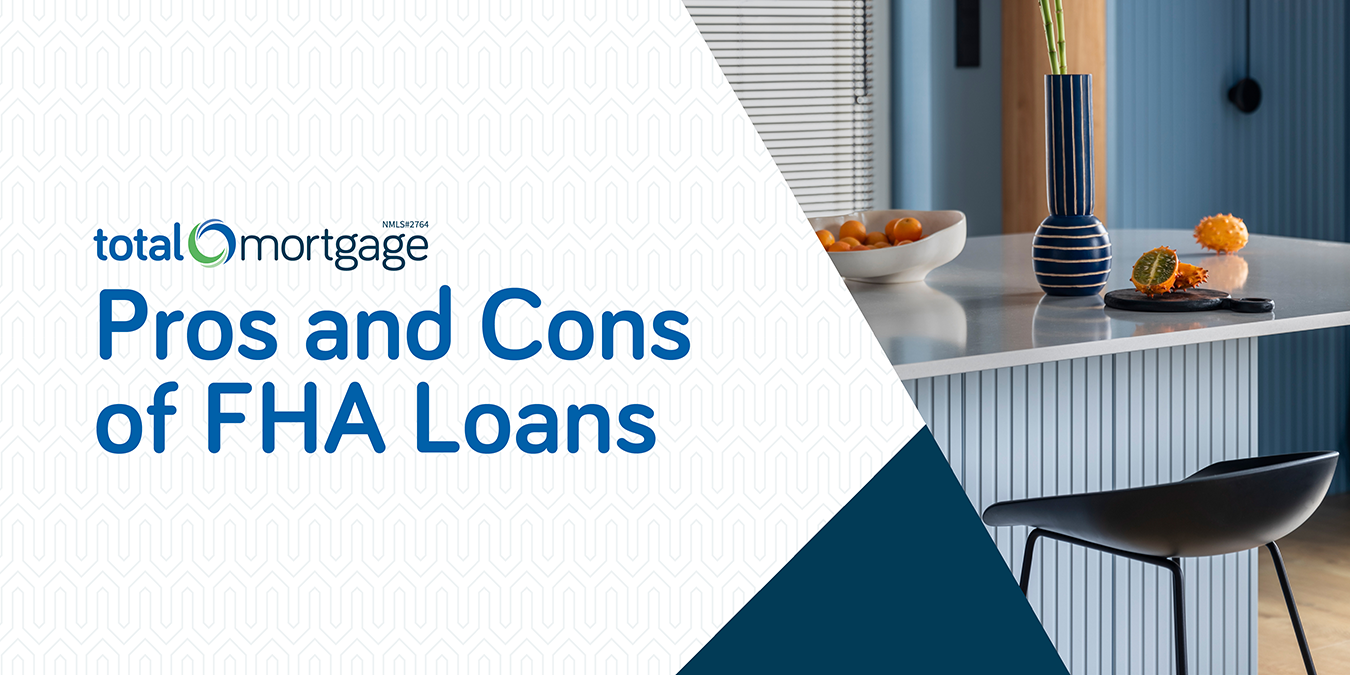 Ready to purchase a home? If you're in the market for something new, you may be considering an FHA loan. FHA loans are typically easier for borrowers to get approved, but you should always weigh the pros and cons to make the most informed decision.
To make sure you know all the details, we've outlined exactly what an FHA loan is, the benefits and drawbacks of getting one, and what you can do to get started.
What is an FHA Loan?
An FHA loan is regulated and insured by the U.S. Federal Housing Administration (FHA) and issued by an approved mortgage lender. FHA loans are designed to help low- to moderate-income families achieve homeownership and typically require lower minimum credit scores and down payments than conventional mortgage loans.
FHA loans also offer a safety net to lenders. Because the FHA insures the loans, there's less of a risk to lenders if the borrower defaults on the loan. This is why lenders offer FHA loans with more lenient approval requirements.
According to the FHA's 2021 Annual Financial Report, the FHA has insurance on more than 7.8 million single-family forward and reverse mortgages.
FHA loans are also especially popular among first-time homebuyers. In the same report, more than 84 percent of all FHA loans were for borrowers purchasing their first homes — a record high.
Looking to get approved for a home loan? Total Mortgage offers FHA loans and can help you buy your first home faster. We have branches across the country. Find a Total Mortgage branch near you.
FHA Loan Pros and Cons Explained
Like any other type of loan product, FHA loans have pros and cons and may not be the right choice for everyone. Before deciding on an FHA loan, it's important to weigh all of the factors involved.
What are the Advantages of FHA Loans?
There's a lower credit score requirement. Most conventional mortgage loans require a minimum FICO credit score of 620, but FHA loans are not as strict. To qualify for an FHA loan, your credit score must be at least 580; however, each lender has different requirements.

You can make a low down payment. If you don't have cash reserves, you can make a smaller down payment when you get an FHA loan. The minimum down payment for an FHA loan also depends on your credit score. If your credit score is 580 or higher, you may qualify for a down payment as low as 3.5 percent. If your credit score is lower than 580, you may still qualify for a loan (depending on the lender) but will need to make a 10 percent down payment.

A higher debt-to-income (DTI) ratio is accepted. Your DTI ratio is a metric that lenders use to measure your ability to manage your monthly payments. FHA loans typically offer more leniency than conventional mortgages. Your DTI ratio can be as high as 43 percent to qualify.

There are no income limitations. FHA loans are not exclusive to first-time buyers or buyers with limited income. There are no minimum or maximum income requirements for FHA home loans that would otherwise disqualify you.

You can potentially qualify for a better interest rate. Because FHA loans are backed by the federal government, there's less of a financial risk to lenders. This allows lenders to give borrowers a lower interest rate on FHA loans.

There's less of a wait time after bankruptcy or foreclosure. Bankruptcy stays on a credit report for seven to 10 years, but the FHA allows borrowers to qualify for an FHA loan within two years after a chapter seven bankruptcy and 12 months after a chapter 13 discharge. After a foreclosure, you may qualify in as little as three years.
What are the Drawbacks of FHA Loans?
You're required to pay a mortgage insurance premium (MIP). Not to be confused with private mortgage insurance (PMI), MIP is required for FHA loans with a down payment of less than 10 percent. You'll need to pay MIP for the life of the loan unless you make a minimum 10 percent down payment, in which case it will end after 11 years.

There are loan maximums. An FHA loan may not work if you want to borrow a large amount of money. For 2023, the FHA limit was set at $472,030 for single-family home loans or $1,089,300 for single-family home loans in high-cost areas. Contact a Total Mortgage loan expert for a full breakdown of FHA loan limits in 2023.

There are minimum property standards. Similar to other government-backed loans, the property that is being purchased with an FHA loan must meet certain guidelines. An appraiser must report the property's condition on the FHA's appraisal form. This means no fixer-uppers.

Some sellers might be less likely to accept offers coming from FHA buyers. FHA loans are sometimes viewed as less favorable than conventional loans in a competitive market.

You could end up paying more over the long term. Your interest rate may be lower, but your APR, which is the annual cost of the loan, can sometimes be higher than conventional loans.
Is an FHA Loan the Right Option for You?
An FHA loan may be the right choice if you have good or fair credit but lack the cash reserves needed for a large down payment. FHA loans allow people to become homeowners much more quickly than they would with a conventional loan.
On the other hand, if you have good or excellent credit and a low DTI ratio, you could qualify for a conventional mortgage even if you don't have the money saved for a 20 percent down payment.
Plus, you could put as little as three percent down for some conventional mortgages – but borrowers with lower credit scores or higher DTI ratios may need to put down more.
FHA Loans With Total Mortgage
FHA loans present many advantages and drawbacks to consider, but the choice you make ultimately depends on your financial situation. If you don't have the best credit history or don't have much cash to put down, then an FHA mortgage loan may be an option worth considering.
Total Mortgage currently offers 15, 20, 25, or 30-year fixed-rate FHA mortgages. FHA adjustable-rate mortgages (ARM) are also available.
Apply today for an FHA loan with Total Mortgage and we'll close your new purchase in 21 days or less.*
*Terms and conditions apply. View full details here.
---
Filed Under: Home Loan Programs