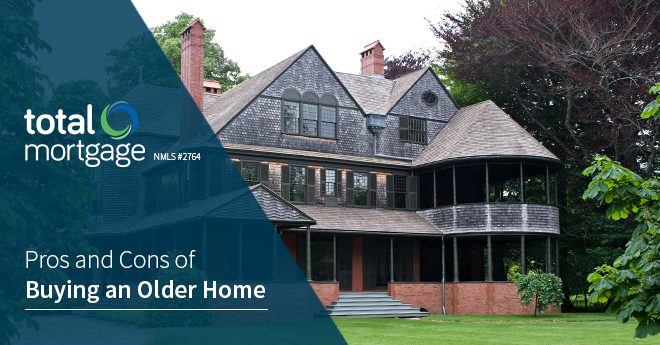 About 500,000 homes sold this year will be newly built, and more than ten times as many—5.2 million—will be existing homes. Since old and new homes are marketed differently, most buyers decide on one option or the other before they start house hunting. It's a good idea to review the advantages and disadvantages of each type, some of which are obvious, some not.
The typical owner-occupied home was built in 1976—39 years ago. Half the occupied single-family homes in America are older than that. The age of an existing home is very important, not just because of maintenance and upkeep, but also because of different materials, lack of insulation, and systems like air conditioning and cable wiring that were retrofitted into homes after they were built.
Construction
Many homes fifty years old or older were built with hardwood or old growth wood framing. Most new homes are built with hem-fir, a hemlock fir hybrid wood designed to grow fast. Him-fir, however, rots quicker. Homes built before the 1950s also used lathe and plaster, not drywall, to finish interior spaces.
On the other hand, most new homes are better engineered. Shear walls have evolved into an expensive but superior product. Windows in the past were single pane and single or double hung. Today's windows made today in wood, vinyl and metal clad. These new windows hold up and are built to be repaired quickly.
Energy-efficiency
Energy efficient windows are just one of the features that became standard after the first energy crises of the 1970's. Many very old houses that date before that era may not have added insulation, new windows and doors, or energy efficient heating and cooling systems.
If you're considering an old house that needs upgrading to be energy efficient, most of the tax credits for basic home repairs have expired. Today, only geothermal heat pumps, wind turbines, solar panels, photovoltaics, for generating electricity and similar equipment qualify.
Design
Houses were designed very differently 40 years ago. Bathrooms were smaller and few kitchens featured islands and eat-in areas. Living spaces were opened up, creating large living-dining-family areas without walls. Some older homes have been remodeled to comply with modern tastes, but it can be a very expensive undertaking to enlarge bathrooms and kitchens.
Locations and Lots
The American suburban landscape has changed greatly in 50 years. Homes that were built adjoining farms now are cheek to jowl with shopping centers. Expressways and subway lines have brought yesterday's bedroom communities closer to city centers, making it possible to extend the suburban veil even farther.
New single-family construction is sited farther and farther away from workplaces, creating a real advantage to older homes. Not only are older homes better situated, they were also built on larger lots, in an era when land was not as precious as it is today.
Price and Purchase
As a rule of thumb, a new home from a builder might run you 15 percent to 30 percent more than buying a comparable older home in an existing neighborhood. In September 2015, the median price of all existing homes in America was $221,900. The median price of a newly built home was $296,900. However, new home owners will enjoy many years of occupancy without the cost of repairs, maintenance, and remodeling that an owner of an older home may not have.
The process of buying old and new homes also is markedly different. New home buyers are well advised to "buy the builder, not the house." Even with most reputable builders, it's important to conduct an independent inspection and to include language in the contract making the builder responsible for correcting problems. Buyers can protect themselves with a new house warranty from an independent insurance company, as opposed to relying on a warranty that comes directly from the builder.
Many developers advertise houses at comparatively low prices to get you to come out and have a look. Once there, commissioned salespeople show you models loaded with expensive extras such as a spa, fireplace, granite countertops, and giant bathrooms. Buying extras lets you semi-custom design your home. However, upgrades often add 5% to 20% to the cost of a new home.
Old homes are more complicated. Appraisals can ruin deals after contracts are signed. Inspectors always find issues with old houses that end up in negotiation. Closing costs are higher.
The bottom line?
There's a lot to consider when choosing between an old or newly built house. By doing your research before you begin to shop, you'll be prepared to ask the right questions to help you find the house that's right for you.

---
Filed Under: Cash-Out Refinance