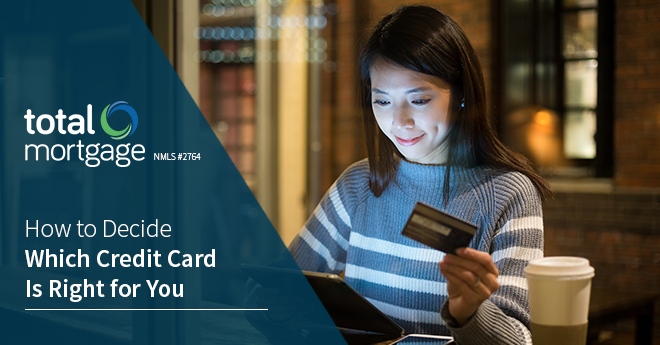 Whether you're on your first credit card or your fifth, it's essential to sit down and think about which type of card is best for you and your spending habits. Even the most careful of credit users can find themselves in a financial bind if they aren't careful about the type of card they choose.
Learn which factors to consider when making your decision, and the right questions to ask yourself in your quest for the ideal credit card.
Find Out Your Current Credit Score
Before you start checking out the newest credit cards, look at your latest credit score. Depending on your credit score, you may not be eligible for some cards, so you might as well rule those out before you get too attached to those great rewards.
Your current credit card company may offer you free access to your credit score, but you can also request a free annual credit report from the three major credit bureaus: Experian, TransUnion and Equifax. Once you receive your report, check it for discrepancies before you continue with picking a credit card.
Think About How You Plan on Using the Card
Are you looking to get a card to boost your credit score, for emergencies only, or to receive rewards? Your answer will help you to further narrow down your credit card options. Cards with longer grace periods and no annual fees to worry about are well suited for those who always pay their credit balance in full every month.
If you know you're likely to have a monthly balance on your card, focus on cards that have low interest and introductory rates. Credit cards with generous rewards programs and credit limits are often the best fit for users who use cards often. The best credit card for emergency situations is one that comes with low fees and interest.
Cards for Beginners
Will this be your very first time applying for a credit card? College students who find themselves in this situation are encouraged to apply for unsecured student credit cards, mainly because they're the easiest to apply for.
Because it's so easy to go buck wild with your first credit card (and even your fourth), beginners are encouraged to give all of their paperwork a careful and thorough read through, no matter how many pages there are. Make sure you're aware of fees/penalties, your interest rate, payment due dates and your limit. Start developing good spending habits now to keep from learning how to climb out of a pit of debt between your classes.
Rebuilding Your Credit House
Individuals who are picking a credit card to help them repair their damaged credit may find it easier to apply for a secured credit card. While you have to drop a deposit of $200 or so before receiving the card, know that you'll receive that money back when you close your account in good standing or upgrade your account. The deposit is a good incentive for you to change how you use your card and how you spend money.
The Interest Rate
No matter how good or not-so-good your credit might be or what you'll be using the card for, pay close attention to the amount of interest you'll have to pay as you're searching for the best credit card. Your interest rate, sometimes referred to as your annual percentage rate or APR, can either be variable or fixed. Fixed interest rates remain the same from month-to-month, making it easier for you to keep track of how much you'll pay, while variable interest rates are more fluid.
That being said, a fixed rate can change if you exceed your credit limit or are late making a payment. You should also look out for notices from your credit card issuer letting you know if your fixed rate will change in the coming months.
Additional Considerations
Besides low interest rates and fees, there are other factors to consider when picking a credit card. For instance, you may prefer a card that notifies the three major credit bureaus of your monthly payments, or one with a low annual fee. There are also credit cards that let you upgrade your account to one with more competitive terms once you've successfully built your credit.
Some consumers prefer cards with low balance transfer fees. If you're in this category, find out if there are any restrictions on the type of debt you're allowed to transfer and if you're restricted in the amount of debt you can shift over. Additionally, the purchase APR on a card might be different from the transfer APR, so be sure to ask about that as well.
Be cautious during your search for the best credit card. These tips, some careful planning and an honest self-evaluation are sure to be your guiding stars throughout your quest.
---
Filed Under: How-to, Saving
Tagged with: best credit card, best credit card 2016, credit card, credit card interest rate, first credit card, how to choose a credit card, how to pick the right credit card, picking a credit card, which credit card is best