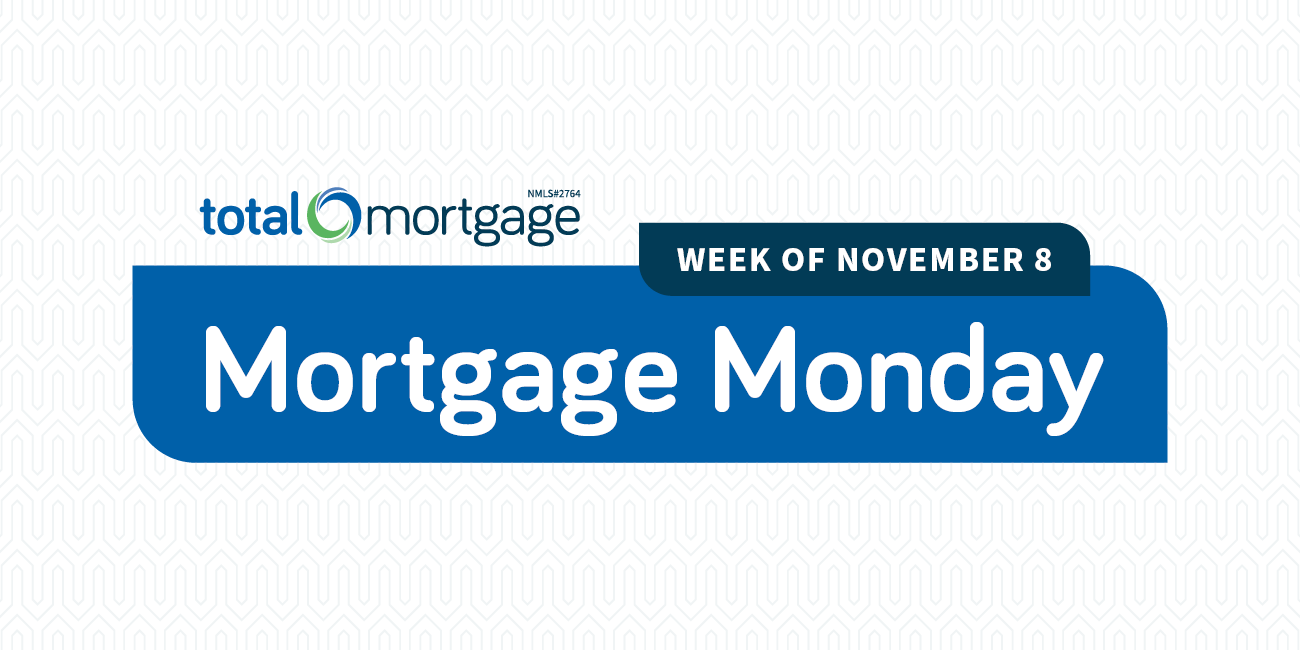 Continued mortgage rate fluctuations, trending cash-out opportunities, and more. Stay informed with this week's look at recent industry news.
Rates Update
Last week, Freddie Mac reported a significant decrease in mortgage rates with numbers below three percent across the board. These are some of the lowest numbers we've seen from Freddie Mac since September – and they should (as with all average rate changes) be taken with a grain of salt. In fact, some experts claim that the exact opposite happened and that rates actually increased over the previous week. Freddie Mac typically gathers their mortgage rate data early in the week, leaving room for error in their subsequent weekly report.
With such a volatile market in this month of November, it's important to stay in touch with your Total Mortgage loan officer to be sure the mortgage rate you're getting is the right one.
Low Rates and High Prices Encourage Cash-Out Refinancing
Cash-out refinance numbers are up 33 percent since last November as a result of current market trends. Even with refinancing as a whole accounting for slightly less than half of the market, the cash-out variety is making a noticeable return. Here's why:
Mortgage rates are still at historic lows. Cash-out refinancing often results in a larger loan with a lower rate, so it's natural to see the long-term benefits of swapping out now.
Property values are holding high. With fewer (and more expensive) options on the market, homeowners are being forced to look inward at their own properties. Pursuing a cash-out refinance could create a useful source of income for home improvements that will only increase a property's value for a future selling date.
For full information about cash-out refinancing, read our blog or contact your Total Mortgage loan officer.
Increased Loan Limits Bring More Spending Power to Buyers
Don't forget earlier this month, the borrowing limits for conventional loan options increased. Buyers now have access to single-family home loans of up to $625,000 (a $75,000 increase), four-unit home loans of up to $1.2 million (nearly a $250,000 increase), and more. With average market prices increasing, this is generally great news for all homebuyers who are eligible. See the full details below: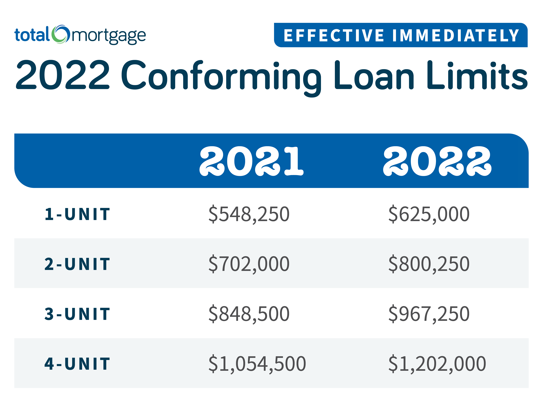 In Closing
Despite last week's fluctuations and the ongoing upward trend, mortgage rates are still at historic lows and should remain relatively low through the end of the year. Now is still a good time to lock in a rate if you haven't already – to get started, reach out to your Total Mortgage loan officer. For now, we'll continue to monitor the news and keep you updated. Have a great week!
---
Filed Under: News
Tagged with: industry news, mortgage industry news, mortgage monday, mortgage news, Mortgage Rates, mortgage rates today, Mortgages