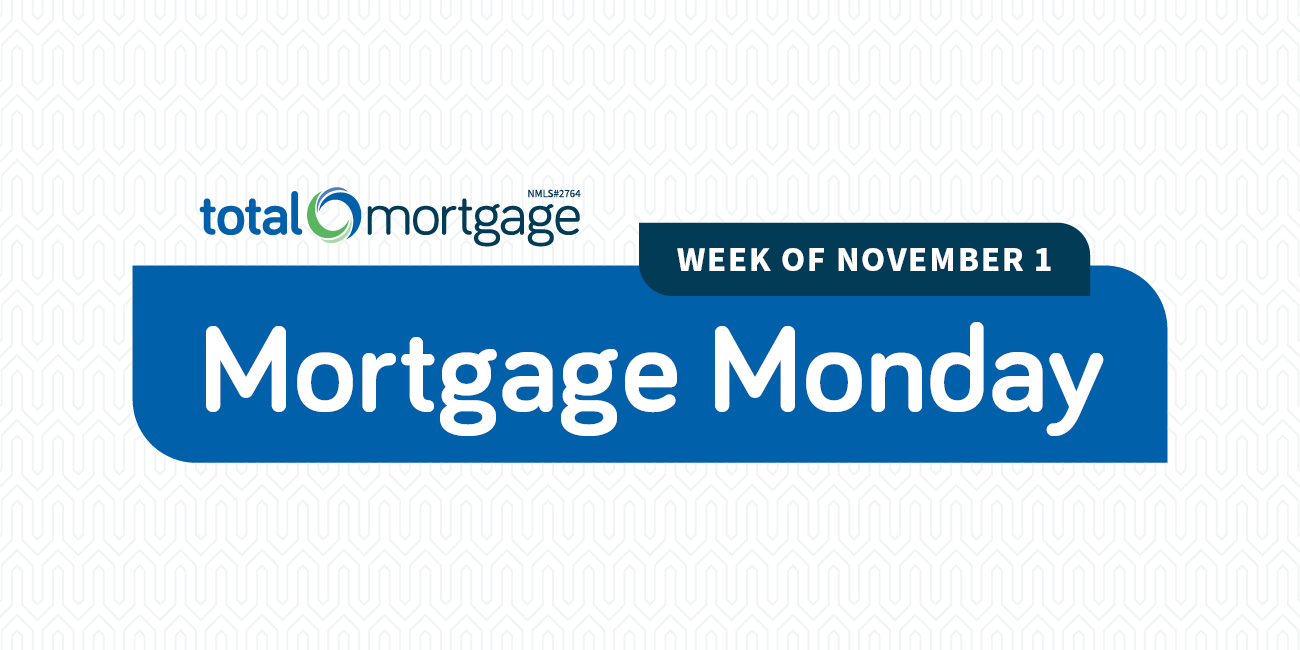 The first week of November brought some interesting news with mortgage rate changes, updated loan limits, and more. Let's dive right into it.
Rates Update
According to Freddie Mac, the week of November 1 saw a very slight decrease in mortgage rates from the week before. This was likely related to the Federal Reserve's recent announcement regarding asset purchasing, which they plan on tapering by $15 billion each month until fully ceasing in mid-2022. The important takeaway here is that even though the rate decrease was good news, experts believe it is only temporary; there's a continued expectation that rates will rise through the end of the year, so be sure to contact your Total Mortgage loan officer if you've been on the fence about a home purchase or refinance.
Overall, mortgage rates are still low and the market is remaining favorable for buyers. Contact us if you have any questions.
New Conforming Loan Limits for Conventional Options
On November 4, the limits for conventional loan options increased in an attempt to help buyers combat rising market prices. Buyers now have access to single-family home loans of up to $625,000 (a $75,000 increase), four-unit home loans of up to $1.2 million (nearly a $250,000 increase), and more. With average market prices increasing, this is generally great news for all homebuyers who are eligible. See the full details below: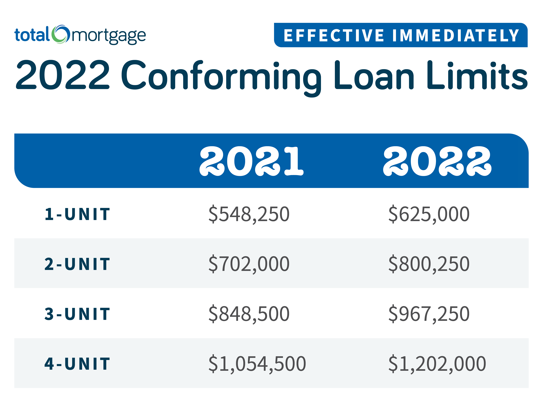 Homes Continue Selling High and Fast Amid Shortages
On the topic of increasing market prices, homes are continuing to sell high and fast. This has been an ongoing trend since the start of the pandemic, which caused labor and supply shortages that have resulted in fewer homes being built. Fewer homes being built means that existing, listed properties are much more desirable on the market; homes are now being sold in days, not weeks, and for much more than their listed price.
With this trend in mind, now could be a great time to pursue home improvements to make your property even more valuable. If you're interested, contact us to learn more.
In Closing
The mortgage rate increase has slowed down (for now), loan limits have increased to make the market more accessible, and homes are continuing to grow in value. All generally good news!
One thing to keep in mind: the gradual rate climb seems to be correlating with the declining pandemic. Should this decline continue into 2022, rates will likely rise closer to pre-pandemic levels. However, the upcoming colder seasons could bring a rise in COVID cases that would cause less consumer spending and lower mortgage rates overall.
For now, we'll continue to monitor industry news week by week and keep you updated. Contact us if you have any questions.
---
Filed Under: News
Tagged with: industry news, mortgage industry news, mortgage monday, mortgage news, Mortgage Rates, mortgage rates today, Mortgages