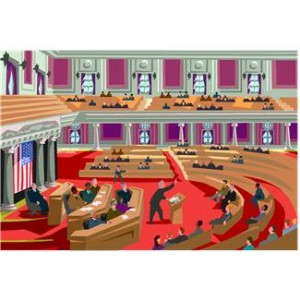 Earlier in the week, Senators Barbara Boxer of California and Robert Melendez of New Jersey reintroduced a piece of legislation that would extend and expand the Home Affordable Refinance Program.  Melendez commented:
"We need to bring much-needed relief now to hard working, responsible homeowners who are struggling to keep up with their high interest rate loans — including thousands in New Jersey whom I have heard from.  We need to do this before interest rates go up again. It's time that Congress finally put families first and give homeowners who have played by the rules a fair chance to refinance at today's low rates. Not only will this bill help put thousands of dollars back into the pockets of New Jersey families who are trying to pay their bills and keep their homes, but it does so at no cost to taxpayers and will stimulate our economy. Making these reforms should be, as my Republican colleague Senator Corker said last year, a 'No-Brainer', and I urge my colleagues to do so immediately."
Some highlights of the proposed legislation:
New requirements would aim to increase competition amongst lenders and potentially lower borrowing costs for homeowners.
Borrowers with significant home equity will be able to use HARP without facing increased fees.
Fannie Mae and Freddie Mac will no longer be able to charge up front fees for refinancing on any property that they already guarantee, lowering refinance costs for borrowers.
Automated Valuation Models will be made available for ALL borrowers, eliminating appraisal costs across the board.
Income verification and employment verification would be eliminated.
HARP would be extended through 2014.
Although eliminating documentation requirements seems risky, most of these changes are justified by the logic that Fannie and Freddie (and by extension, the taxpayers) are already on the hook for these mortgages, whether or not they are refinanced.  In theory, lowering the interest rate (and monthly home payments) could help some people that are struggling and possibly prevent some defaults.
I'm not sure whether or not there is bipartisan support for the bill, or what the chances of it actually becoming law are.  It does have the support of a large number of industry groups, and is also co-sponsored by twenty other  Senators, but they are all Democrats (with the exception of Bernie Sanders, who is an independent).  I'd feel a little more sanguine about the bill's prospects if there were some Republican co-sponsors.  Even if the Democrats can ramrod this through the Senate, it seems unlikely to pass the House without some Republican outreach.
In any case, we'll be keeping an eye on this to see if it goes anywhere.
---
Filed Under: News
Tagged with: HARP, refinancing