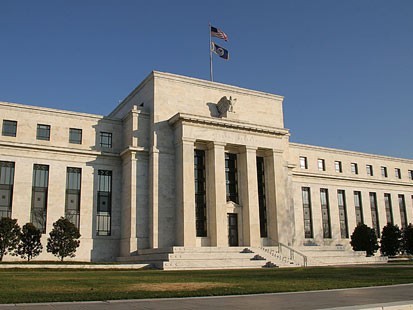 Tomorrow the Federal Reserve concludes its December meeting, and the question on everybody's mind is whether the Fed will raise rates or not, and the answer is "probably not".  The vast majority of observers do not expect that the Fed will make any changes in its interest rate policy.
The Bloomberg consensus projection calls for no change in the Fed Funds rate, which is expected to stay between zero and 0.25 percent.  Calculated Risk expects this to be "a boring statement", and projects no change.  This post from mortgagenewsdaily.com quotes several groups of Fed watchers, none of whom expect to see any change.
Frankly, it makes sense that the Fed will make no changes in current monetary policy for several reasons.  The Fed has a dual mandate to try to achieve full employment while keeping inflation in check (typically the target for inflation is 1.5-2%).  With fears of deflation looming and unemployment still running close to 10 percent, there has been no change in economic conditions that would prompt the Fed to pull back on the reins.  Additionally, the Fed probably will want to wait to see what effect its second round of quantitative easing ("QE2") has on the economy before making any other changes to monetary policy.
None of this is particularly new or interesting.  What I do think is interesting is what will happen with the Federal Reserve politically over the next couple of years.  The Fed has come under increased public scrutiny, especially during the last election cycle.  Many politicians have criticized the QE2 program.  Recently, Rep. Mike Pence introduced legislation to end the dual mandate.  His reasoning for doing so seems to me to be spurious at best.  He seems to suggest that because the Federal Reserve has been unable to lower unemployment, it should cease trying to do so and only focus on price stability (the linked article suggests the legislation is unlikely to pass).  Nevertheless, criticism of the Fed has become a familiar talking point for many politicians.
Additionally, Rep. Ron Paul was recently made head of the House Monetary Policy subcommittee.  This is notable because Rep. Paul is well-known for his desire to audit (and ultimately abolish) the Fed.  His presence as head of this committee will likely increase political pressure on the Fed over the coming years.  What will be interesting is if the Fed becomes more susceptible to this political pressure.  Many of the FOMC members have come out with public statements in support of QE2, including a New York Times editorial by Ben Bernanke.  There will probably be something in tomorrow's statement defending the QE2 program.
I think this is going to be the real story with the Fed moving forward, and its evolution in the face of political pressure will be interesting to see.

---
Filed Under: Mortgage Rates
Tagged with: federal reserve, interest rates, Mortgage, Mortgage Rates, Total Mortgage