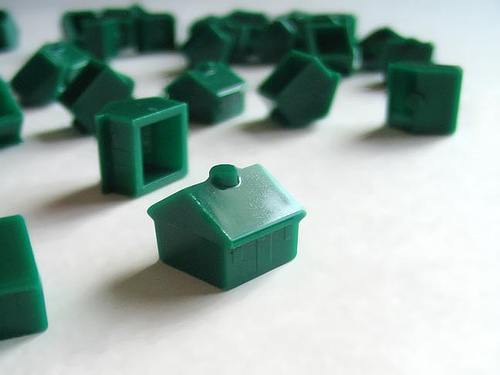 2011 is going to be a rough year for the housing market, barring unforeseen changes to our country's economic fortunes.  There is a massive supply of unsold homes in this country.  There is little demand for these properties.  Basic economics tells us that home prices must fall unless there is a massive influx of home-buying immigrants or we destroy a lot of the existing housing stock (which would be a monumentally stupid waste of resources).
According to Standard and Poor's, as of the end of the third quarter, the principal value of foreclosed mortgages totaled $450 billion.  Although this is down from $460 billion in the second quarter, the pace at which the market is absorbing these properties is slowing.  It will now take 44 months for the housing market to absorb these homes, up from 40 months in the second quarter.  In an article on Marketwatch.com, the ratings agency commented:
"The growing volume of distressed properties remains one of the primary factors hindering a full recovery in the U.S. housing market".
Home prices are down about 20-25 percent since their 2006 peak.  While home values were temporarily buoyed by the first time home buyer tax credits, values commenced falling when those stimulus programs expired in the spring.  Home prices have been falling in many areas for several months now.  In the most recent Case-Shiller Home Price Index, David Blitzer, the Chairman of the Index Committee at S&P commented:
"The double-dip is almost here, as six cities set new lows for the period since the 2006 peaks.  There is no good news in October's report.  Home prices across the country continue to fall.  The trends we have seen over the past few months have not changed.  The tax incentives are over and the national economy remained lacklust in October, the month covered by these data.  Existing home sales and housing starts have been reported for both October and November, and neither is giving any sense of optimism.
The good people at Zillow are no more optimistic than those at S&P.  Zillow says home values will drop by $1.7 trillion in 2010 (correction: this originally read "2011", but Zillow has yet to make a prediction for 2011).  Zillow Chief Economist Stan Humphries commented: "The back half of 2010 looked horrible and 2011 should look like the mirror image of that". Humphries does not paint a pretty picture.
Possibly you don't agree with Zillow or S&P/Case-Shiller.  How do you feel about the opinion of media and real estate mogul Mort Zuckerman?  He says the glut of distressed properties will "put downward pressure on residential prices" and "that's going to continue for several years".
What about the opinion of Nouriel Roubini, former advisory to the Clinton Treasury, NYU Stern School of Business Professor, and predictor of the financial meltdown says real estate problems in the United States are "underappreciated" and that the "real estate market, for sure, is double dipping".
I think you get the idea.  If you're reading this, you have your own google machine, and can find plenty of people who are predicting a continued slide in housing prices, a full-fledged double dip, or both.  You may even find a few (very few) people who are saying that housing will recover in 2011.  Usually these people have a pretty clear agenda, and I wouldn't put too much stock in what they say.  While there is something to be said for contrarian thinking, I simply cannot see anything other than further declines in home values in 2011 (on average – some areas will fare better than others).  What do you think will happen to the housing market in 2011?  Perhaps you see an angle I don't?  Let me know in the comments section below.

---
Filed Under: Mortgage Rates
Tagged with: housing market, Mortgage, Mortgage Rates, Total Mortgage