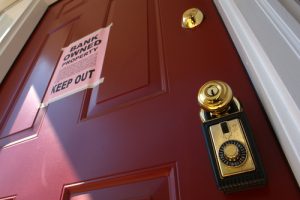 Today there is more bad news on the foreclosure front.  Lenders seized more houses in foreclosure in August than any other month since the beginning of the mortgage crisis.  This news comes from a RealtyTrac study via an AP article by Alex Veiga.
According to RealtyTrac, over 95,000 homes became real estate owned (REO) in August, a 3 percent increase from the prior month and a 25 percent increase from the previous August.  This is the ninth straight month that the number of homes seized by lenders has increased.
The only marginally good news on this topic is that foreclosure filings (the number of homes entering the foreclosure process) actually declined for the third straight month.  It appears that banks are increasing the pace at which they can handle these foreclosures, slowly working through the backlog.  According to James Saccacio, CEO of RealtyTrac:
"On the front end, seriously delinquent loans are rolling into foreclosure at an unusually slow rate, while on the back end the dammed-up inventory of properties already in foreclosure is moving to REO in steady stream rather than a flood — presumably to prevent further erosion of home prices,"
So this current wave of foreclosures appears to have crested and may be rolling back, but there is a concern that further home price declines could send many more borrowers underwater, and many others into foreclosure.  Nearly 25 percent of U.S. homeowners with mortgages have negative home equity, and many more are in danger of becoming underwater if prices decrease.  As stated in the above quote, putting additional REO property on the market could put additional downward pressure on home values.
More downward movement in home values is almost inevitable at this point.  There is a huge overhang of supply (12.5 months of supply vs 6 months in a normal market) and a severe lack of demand for homes following the expiration of the first time homebuyer tax credit.  Factor in continued high unemployment and we can see that home prices must fall.

---
Filed Under: Mortgage Rates
Tagged with: epic failure, first time homebuyer tax credit, foreclosure, Mortgage, Mortgage and foreclosures, Mortgage Rates, reposession, Total Mortgage