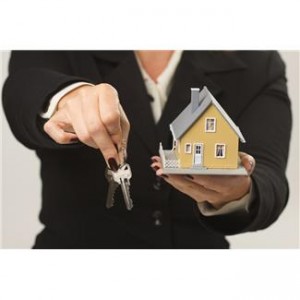 Spring has sprung and home buyers are at the starting gate. But this race to buy might be different than in past years. 
A fairly new player on the scene are institutional investors; many ready to pay with cash. The primary strategy is to turn property into rental homes. "There are many markets across the country where it makes sense to do that. The average rent will allow you to cash flow single family homes and that's what these investors are looking at," explained said Daren Blomquist, vice president of RealtyTrac. "You have many displaced families who still want to live in a single family home but are not qualified to buy yet. Interest rates are low and they're getting out of the bond market and are looking for places to invest their money. Some of the best markets are showing a 10% return by renting out the property. And that's just for the rental. The value of the property is going up as well."
"We did a study of institutional purchases -10 properties or more in one month- and found they were up in places such as San Bernardino/Riverside but also up in Atlanta and parts of Florida," said Blomquist. "Many of these investors started out in the west because that's where the market bottomed out first. Now they are moving east as they run out of inventory in the western markets. Local investors might buy a Sandy-damaged property; rehab it and flip it at a much higher price."
His advice. Be persistent. "You're going to run into situations where your offer is one of many. But you'll learn what types of offers are the successful ones. And, if possible, avoid the need to buy immediately. There will be foreclosed inventory entering the market that isn't for sale yet but will be later this year and next year. And homebuilders are ramping up and that will balance out the the inventory," said Blomquist.
And cash is still king. "If you can make an offer that's not contingency-based, that's a plus. A first time home buyer has that advantage over someone who has to sell their home first before buying," he said.
Said Ken Fears, a senior economist at the National Association of Realtors: "Investors buying property are a concern. If you are someone coming in with all cash vs someone who has financing hurdles, that process will take longer. It also depends on the market. For the Wall Street investor, the spread has to be enough to make it worthwhile and there aren't that many markets where that can be done. They need to keep the cost down and need to do it on a large scale basis."
"There's lots of competition out there and multiple offers are the norm," said Fears. "I've heard of buyers waiving inspections. That's never a good idea. You need too know what you are getting before you buy it. One can look at Sandy-type homes but if you're a first-time buyer, you may not be able to get financing for that type of property. But if you can get the financing and can afford the insurance for these low lying areas, sure. The sweat equity option is a great one."
A recent article in Forbes cites stats used by CoreLogic regarding institutional investors:
Institutions are most active in five states: Florida, Georgia, Arizona, Nevada and California. The metro area that had the most institutional activity in 2012 was Miami, Fla., with firms funding 30% of all sales. Single-family home prices for the Miami metro area rose about 11% in 2012. That figure includes distressed homes. Institutional investors accounted for 21% of all sales in Charlotte, N.C., 19% in Las Vegas, and 18% in Orlando.
Forbes also pointed to JPMorgan Chase, Colony Capital, a real estate equity company privately owned by billionaire Thomas Barrack, Waypoint Homes, Apollo Global Management, KKR & Co, and Oaktree Capital Group. The biggest player is Blackstone Group; claiming to have purchased $3 billion of houses that had been foreclosed.
For more info:
http://www.realtytrac.com/statsandtrends
http://www.realtor.org/news-releases/2013/03/pending-home-sales-slip-on-constrained-inventory

---
Filed Under: Mortgage Rates
Tagged with: buying a new home, home buying