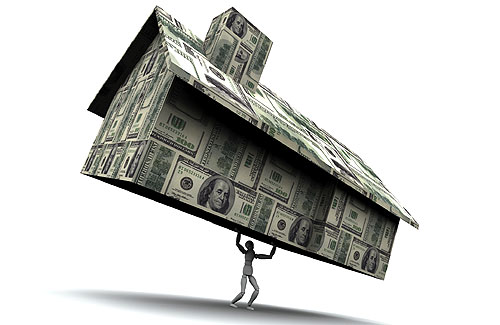 Two quick blurbs as there is a lot of other news to get to today:
First: as is the case every Wednesday, the Mortgage Banker's Association released their Mortgage Applications Survey for the previous week.  Loan applications were down significantly.  The numbers include an adjustment for the Thanksgiving holiday, although it is unclear what that adjustment is, and if it accounts for the fact that many people were off Wednesday and/or Friday as well as Thursday, so I would take all these number with a grain of salt.
Total mortgage application volume decreased by 16.5 percent from the week before (on a seasonally adjusted basis).  Refinance applications dropped for the third consecutive week, falling 21.6 percent from the week before.  Refi activity is at its lowest point since the summer, despite the fact that mortgage rates continue to linger near historical lows.
Adjusted purchase applications actually rose 1.1 percent as purchase activity hit its highest point since the Spring.  Despite this, the four-week moving average for the purchase index is nearly 20 percent below where it was in the spring.  We can expect continued weakness in the housing market into the coming year as the market seeks a bottom and home prices continue to fall.
The second item is that the Zillow Mortgage Marketplace update was released yesterday, and Zillow found that mortgage rates were up slightly, with the average rate on a 30 year fixed-rate mortgage rising from 4.27 percent to 4.30 percent last week.  The average rate on a 15-year fixed rate mortgage is at 3.68 percent while the average rate on a 5/1 adjustable rate mortgage is at 3.01 percent.
Where rates go from here is a guessing game.  It is entirely possibly that uncertainty in Europe and the mess in Korea could cause skittish investors to seek out the safety of the bond market, causing bond prices to rise and bond yields to fall.  If this were to happen, mortgage rates would likely fall.  I suspect that for the near future we will see week-to-week volatility as mortgage rates sawtooth up and down around their current levels.  Only time will tell…

---
Filed Under: Mortgage Rates
Tagged with: Mortgage, mortgage applications, Mortgage Rates, Total Mortgage, zillow