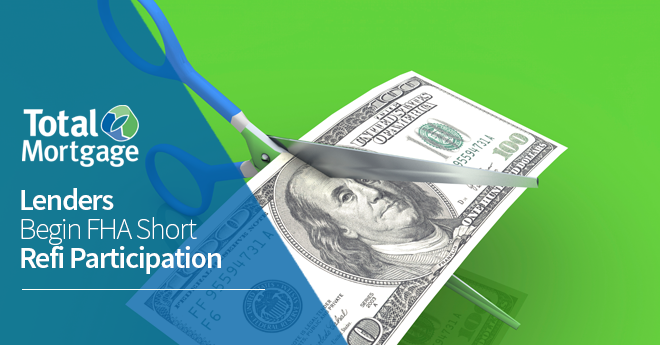 Few topics have prompted as much discussion on this blog as the frustration of homeowners over the FHA Short Refi program.  The program was intended to help those who are underwater on their homes refinance at current market rates into FHA insured mortgages. At the time the prevailing mortgage rates were at or near all-time lows (rates have since deteriorated, although many people would likely still save money through the FHA short refi).  The problem was that the program really failed to properly align servicer/investor/lender/homeowner interests, and the program never really took off due to lack of lender participation.  The program started on September 7, 2010, and as of Dec 31, 2010, the program resulted in 15 refinances total (see page 8 of this PDF).
Now, as part of our current Congress' lip service toward budget cutting, many wish to cut the FHA Short Refi Program (as well as HAMP and the Neighborhood Stablization Program).  In a 256-171 vote, The House chose to defund the program (the vote fell largely along party lines and the bill is unexpected to pass through the Senate; the president has promised to veto the bill if it should reach his desk).  House Financial Services Committee Chairman Spencer Bachus made this lame argument to end the program (cue Helen Lovejoy):
"The money from this program doesn't go to the homeonwer, it goes to the lender, it goes to the banks.  And who pays for it?  The taxpayers and ultimately our children and grandchildren because the federal government borrows 42 cents of every dollar it spends."
So of course it is fitting that five of the largest U.S. banks have jumped on board the program, according to a Housingwire article by Jon Prior.  Per the article, Bank of America, Citigroup, JP Morgan Chase, Ally Financial, and Wells Fargo are now participating with the program.  The article did not stipulate to what degree these lenders are participating.
It seems unlikely (although not impossible) that Republicans will be able to end this program.  I hope that some of you who have tried to work a modification through the short refi program are able to do so.  If you make any headway, I'd love to know.  Post your experience in the comments section below.

---
Filed Under: Mortgage Rates
Tagged with: FHA short refi, Mortgage, Mortgage Rates, Total Mortgage