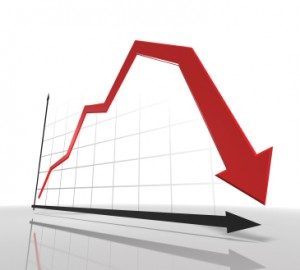 Just a quick update on housing prices here:
According to Clear Capital from a report via Housingwire.com, home prices declined 5 percent between August and October.  According to the article prices have declined 6.8 percent from the market's peak in mid-August.  Additionally, Altos Research found that the average home price is down 1.6 percent from September to October.  Last month Core Logic showed prices declining 1.5 percent in from August 2009 to August 2010.  All these reports have slightly different methodologies and come up with somewhat differing numbers. The main takeaway is that they are all trending in the same direction: downward.
The Case Shiller/S&P Housing Index is the most widely quoted measure of housing prices.  It is a 3 month average with a two month lag, so we should expect to find declines in home prices when it comes out later this month (the last report showed signs of weakness but did not yet indicate falling home values).
These price declines should not be particularly surprising to anyone.  There are a few factors at work here that ensure downward pressure on home prices for the near future.  The first is that it has become apparent that the first time home buyer tax credit pulled demand into the spring at the expense of the rest of the year, temporarily propping up prices and home sales only to see demand for homes fall precipitously when the credit expired.  The second factor is that there is a massive number of homes on the market and homes in shadow inventory that have yet to come to market.  The overwhelming supply of homes and the lack of demand for them pretty much guarantees that prices will fall, and that is what we are seeing now.  Not even near record low mortgage rates are enticing people into home purchases.
Declining home values are not good for anybody.  But the housing market will not recover until it bottoms out, and the sooner that happens, the sooner the recovery process can occur.

---
Filed Under: Mortgage Rates
Tagged with: home prices, Mortgage, Mortgage Rates, Total Mortgage