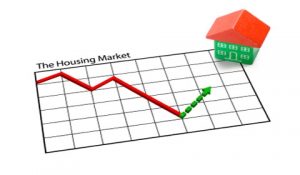 Although housing prices have essentially stabilized nationwide, it should not be assumed that housing prices will soon begin to rise again. In fact, the complete opposite is far more likely for at least another 12 to 18 months. And, there are a few compelling factors to bolster this claim.
First, foreclosures continue to litter the American landscape. These foreclosures, in effect, continue to force home prices down. As homeowners look to take advantage of the low current mortgage rates, widespread foreclosures are being used as comparables in the appraisal process, forcing a decline in home values even for homeowners looking to refinance who have not been directly impacted by foreclosure.
Next, the job market remains unstable. As unemployment remains at 9.6 percent, purchase and refinance activity has unquestionably taken a hit.
Finally, the lack of federally funded incentives similar to the recent homebuyer tax credits further depress median home values. It is unlikely home values will truly stabilize until the end of 2011, or possibly even the summer of 2012.
Mortgage analysts predict mortgage rates will remain relatively low through the first two quarters of 2011 before they are anticipated to gradually begin to ascend. Therefore, homeowners looking to refinance or prospective homebuyers looking to purchase should experience favorable conditions for the time being. How high will the rates rise? Well, analysts seem to be in agreement that rates will likely remain below 5 percent until at least mid-2011.
Homebuyers are expected to be lured back into the housing market due to the unprecedented combination of low mortgage rates, low home prices and gradually improving employment figures.
Attempting to gauge the housing market perfectly, however, is essentially a fruitless venture. While housing prices may continue to fall, mortgage rates could still suddenly rise, negating any lower purchase price. Getting into a bidding war in this market is not advisable either, as the market is virtually saturated with more and more homes.

---
Filed Under: Mortgage Rates
Tagged with: housing forecast 2011, housing forecast for 2011, mortgage rates forecast