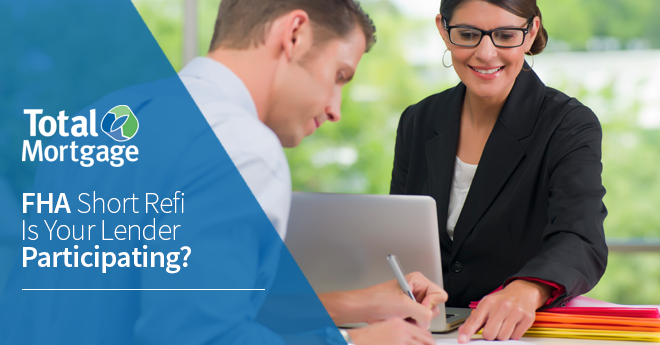 UPDATE 2/29/12: Fewer than 400 FHA Short Refis were completed in fiscal year 2011.  I wrote an update about the continued struggles of this program that you can find here.
UPDATE: 5 Major Lenders have announced that they are participating in this program.
UPDATE: On March 10, 2011, the House of Representatives voted to kill the FHA Short Refi Program.  The bill is not expected to pass the Senate, and if it does, the president is expected to veto it.
UPDATE: On March 3, 2011, the House Financial Services Committee passed a bill that would end the FHA Short Refi Program.  As the situation changes I will do my best to keep you up to date.
A few weeks back, the FHA rolled out its new Short Refi Program (click link for complete description of the program), designed to help refinance the mortgages of borrowers who are underwater on their homes.  The FHA estimates that the program could help between 500,000 and 1.5 million borrowers.  At the time the program was announced, I was skeptical that it would work, and I still am, chiefly for one reason: it requires the lender to voluntarily write off at least ten percent of the unpaid mortgage balance. The reluctance of lenders to participate in these programs is a clear pattern, which is why I continue to advocate for mortgage cramdown legislation.
Thus far, we have not seen government programs that require voluntary lender participation to be very effective.  Well-intentioned programs like HAMP, HARP, and HAFA have all fell short of their goals.  We still have a huge ongoing foreclosure problem in this country.  I don't want to lump the blame totally on lenders and government programs.  Some borrowers who are in foreclosure are in untenable situations that are at least partly of their own causing, and are unlikely to be helped by any government program.  By the same token many borrowers planned and purchased responsibly and are still having problems keeping their homes.  A quarter of U.S. homeowners with mortgages are underwater on their properties, and many of these are in danger of foreclosure.
So far I have heard from a number of people who tried contacting their lender about the FHA Short Refi program.  I have yet to hear from anyone who has had any success getting their mortgage modified under this program.
If you have attempted to utilize this program, I would like to hear from you.  Is your lender participating?  Did they say why or why not?  Did you make any headway in getting your mortgage refinanced through this program?  Let me know in the comments section below.

---
Filed Under: Mortgage Rates
Tagged with: FHA mortgage, fha refi, FHA short refi, FHA Short Refinance, fha short refinance participating lenders, fha short refinance program, fha short refinance wells fargo, Mortgage, Mortgage Rates, short refi, short refinance, Total Mortgage, underwater mortgage