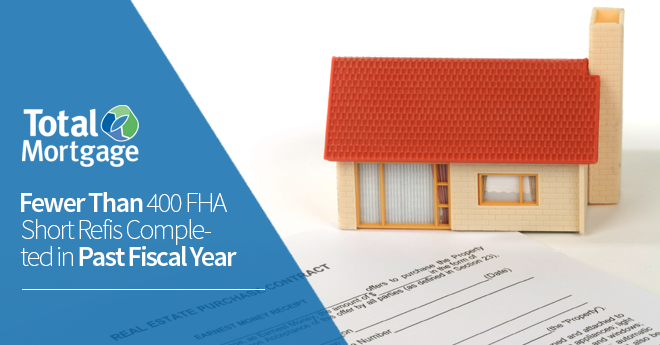 Back in September 2010, I wrote a blog about the FHA Short Refi program, specifically about the lack of lender participation in the program.  It has been one of the most read and most commented on blogs that I've written.  Recently a reader requested a follow up to this piece.  Unfortunately, it doesn't appear that the program has performed any better since I wrote the first post.
First a little background on the program.  Generally, speaking homeowners who owe more on their mortgages than their home is worth are unable to refinance their mortgage because lenders are hesitant to underwrite a new mortgage on a home that is underwater.  This is prudent on the part of the lender, as negative equity tends to be a leading indicator of eventual default.
However, negative equity had never before been such a pervasive problem.  Currently property values are down by about a third on average since the housing market peaked in late 2006.  Eleven million Americans are underwater on their mortgages, which accounts for about a quarter of the mortgaged homes in the country (there is about $750 billion in negative equity in the U.S. housing market).  Many of these borrowers have mortgages from the mid-2000s with rates significantly higher than they are now.  In order to help these borrowers refinance, the FHA short refi program was introduced.
In order to qualify, a borrower had to be current on their payments, have a loan that is not an FHA loan, and have a participating lender.  The problem was that not many lenders participated, as participation was totally mandatory.  The Short Refi program generally required lenders to take a loss, because one of the stipulations of the program was that the new loan couldn't have a loan-to-value ratio greater than 97.75%.
Let's say for instance that someone purchased a home for $500,000 and put down 10%, so the original mortgage was for $450,000.  Subsequently the value of the home dropped by 1/3 to $333,500.  Under the FHA Short Refi program, the new mortgage could be a maximum of $325,996.  Even if we were to assume that it took a couple of years for the home value to drop, and the borrower consistently made payments and paid off some of the mortgage, the lender would take a large loss on this loan.  This does not even factor in that securitization and second liens could make it even more difficult or impossible to modify a mortgage.  So it is easy to understand why lenders did not participate.
One could of course argue that doing a short refinance would cut lender losses, because the loss involved in a short refi is almost certainly less than would be lost if the home went into foreclosure.  However, those who would attempt to do an FHA Short Refi would also have to be current on their mortgage – which makes it seem less likely that this subset of borrowers would eventually default.  From the lender perspective, somebody who is trapped in a mortgage they cannot refinance, with an interest rate far above market, that continues to make their payments is an ideal customer.  It would probably make far more sense to attempt to mitigate losses with homeowners who were not making their payments (these are the people far more likely to end up in default).
As near as I can tell, the FHA Short Refi program, which is scheduled to expire at the end of this year, is still suffering from a lack of participation.  According to HUD's figures, 334 short refinances were completed in the 2011 fiscal year.  This number is trending up, and as of the most recent data, 313 short refis were completed so far in the first quarter of 2012.  Despite the increase in refinancing, the program was intended to be an $8 billion program, and will likely only use a small fraction of its budget.
Although there has been some talk of a broad-based refinancing plan that would help underwater homeowners refinance through the FHA, nothing concrete has been developed.  Additionally, the updated Home Affordable Refinance Program (HARP) is scheduled to get underway in the coming months.  HARP 2.0 is also supposed to help underwater homeowners refinance their loans.  The first iteration of HARP met with a modicum of success.  It isn't entirely clear how much impact HARP 2.0 will have (although many seem optimistic).
So at the end of the day, the FHA Short Refi program appears to be a bust, and will likely remain so unless major changes are made to it (specifically, lenders would have to be heavily incentivized to participate in the program).
If you'd had success with an FHA short refi, I'd like to know about it.  Let me know in the comments below.

---
Filed Under: Mortgage Rates
Tagged with: FHA, FHA Short Refinance, foreclosure, underwater home