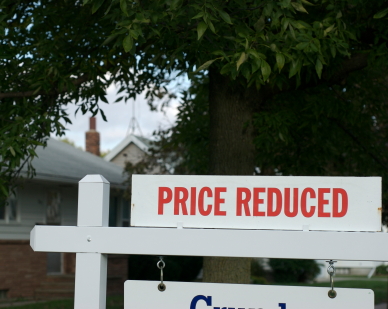 This morning Nick Timiraos of the Wall Street Journal has an article about housing prices.  The prospects for recovery do not look good for 2011, if you believe a survey of 111 economists and housing experts by data provider MacroMarkets LLC (MacroMarkets was co-founded by Robert Schiller, who also helped establish the S&P/Case-Shiller Home Price Index). According to the article, most economists do not expect to see a recovery this year.  National home prices are expected to fall 1.4% percent on average through 2011.
As of last June, economists predicted that housing would gain 1.3% in 2011.  Frankly, this prediction seemed laughable then, and it seems no more justifiable in retrospect.  Quite simply, there is little demand for houses, and a massive overhang of housing inventory.  The market was temporarily buoyed by the first time home buyer tax credits, and predictably cratered when the stimulus was withdrawn.  The situation has only deteriorated since last year.
Unemployment remains distressingly high, at 8.9%.  Although it is down from 9.8% in December, most of the decline is owed to diminishing workforce participation rather than massive job creation.  Although we are no longer losing massive numbers of jobs, we are not seeing particularly meaningful job creation at this time.  The lack of jobs helps to ensure that demand for homes will remain low for the near future.
In addition, the amount excess housing inventory continues to grow.  According to a Housingwire article by Christine Ricciardi, Capital Economics believes there are 5.3 million homes in shadow inventory in the United States.  There were a record number of foreclosures in 2010, a number that is likely to be surpassed in 2011.  We should expect to see the number of unsold homes in this country grow, further depressing home values.
Basic economics would lead us to believe that home prices will continue to fall.  What is most distressing about this is that 23.1% of U.S. homeowners with mortgages are underwater.  Additionally, 5.4 percent of homeowners have less than 5% equity in their homes.  Further price declines could push these homeowners closer and closer to default, which would further increase the inventory of unsold homes.  Barring a sudden massive turnaround in the employment sector, or some other unforeseen event, housing is not likely to recover any time soon.

---
Filed Under: Mortgage Rates
Tagged with: home prices, housing market, Mortgage, Mortgage Rates, recovery, Total Mortgage