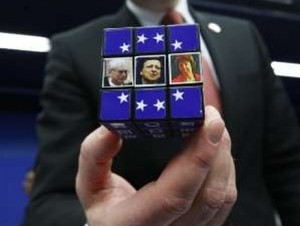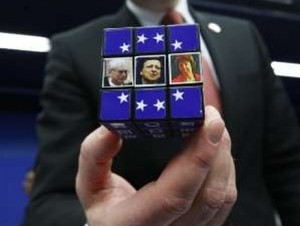 Mortgage rates are looking to test record lows again today as troubles in Europe continue to roil the markets.  Ho-hum, right?  There's very little in the way of economic news today, so once again we are seeing "safe" investments like mortgage-backed securities and Treasuries rally as risk averse traders flee the stock market.  The more things change, the more things stay the same.
The ongoing fiscal disaster in Europe comes as a surprise to pretty much nobody.  The writing has been on the wall since last fall when the braintrust in Europe decided to simply kick the can down the road in order to delay dealing with the region's problems in any real or meaningful way.  Of course the debt issues have not gone away, but have been exacerbated by austerity measures, which were as misguided in Europe in 2011 as they were in the United States in 1937.  Mark Twain knew what he was talking about when he said that "history doesn't repeat, but it does rhyme."
There's not a lot more to say about today's events.  tomorrow we get the International Trade and Jobless Claims reports, and Friday is the Producer Price Index.  I don't anticipate that any of these numbers will cause significant movement in mortgage rates.  It seems most likely that these figures will affirm that the U.S. economy is slowing.  Rates will continue to linger at or near record lows for the remainder of the week, barring an unexpected turnaround in Europe (not likely).
Total Mortgage is committed to getting you the lowest possible rate.  To get information on our rates and products, call us today at 877-868-2503, or fill out the form to the right.
Today's News, Links, and Things I'm Reading:
Bloomberg: Fannie Mae Won't Seek Aid After Posting $2.7 Billion Profit.  How about that.
Calculated Risk: MBA: Mortgage Purchase Activity Increased, Record Low Mortgage Rates.
Peter Boockvar: Germans Put it Bluntly to the Greeks.  At this point, I don't think the Greeks care a whole lot about what the Germans say.  For months I've said (and by no means am I the only one) that Greece will default and leave the Eurozone.
Bloomberg: Greek Elections Force Germany to Weigh Austerity Endgame.  Germany is cutting off its nose to spite its face.  Who do they expect is going to buy all their exports?
NYT: German Patience With Greece on Euro Wears Thin.
Matt Taibbi: Austerity Can't Be Just For Regular People.
Salon: America's Idiot Rich.  "There can be no reasoning with people this irrational."  Personally, I think irrational should have replaced idiot in the title.
Credit Slips: Affidavits are Not a Substitute for Evidence of Debt Ownership.
LA Times: Mortgage-aid Revisions Paying Off For Lenders and Some Borrowers.  In this case "some" means "a very small number."
ProPublica: 40 Acres and a Rule: Draft Federal Fracking Regs Cover Only a Sliver of Land.  I'm certain that unregulated fracking will work out just great.
National Geographic: Dinosaur's Gaseous Emissions Warmed Earth? The hypothesis is that giant dinosaurs farted and burped at a rate that caused the earth to warm.
The Guardian: Google's Self-Driving Car Approved For Testing. This is like having a built-in chauffeur.  Awesome.
Yahoo: Man Jumps Into Vat of Acid to Save Co-Worker. Wow.
Slate: Was Paul's Boutique Illegal? It certainly was awesome.
Reuters: Putin Promises a Strong Russia on World Stage.  Awesome, gotta love that Putin.  See following link.
60 Minutes: Who Killed Alexander Litvinenko?
Total Mortgage consistently offers some of the lowest current mortgage rates, jumbo mortgage rates, and fha mortgage rates in the country.

---
Filed Under: Mortgage Rates
Tagged with: Current Mortgage Rates, Mortgage Rates, todays mortgage rates