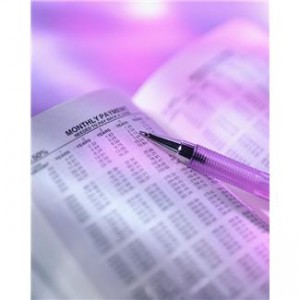 Despite a somewhat encouraging start to the day yesterday, an afternoon sell-off in mortgage backed securities led to higher mortgage rates – again – yesterday.  Another bad prediction by me – again.  Right now rates are approximately flat on the day after some mixed economic data, and I'm loathe to make some sort of prediction as to where they will end up.  There's been quite a bit of intraday volatility of late, and the FOMC statement scheduled for 2:15 today could throw a spanner into the works.  We have now seen a steady increase in rates going back to last Thursday, and I don't imagine that we are going to entirely regain the lost ground any time soon, if ever.
To speak with one of our licensed mortgage professionals to find out how much you could be saving, click here or contact us today at 866-896-5826.
As for today's economic data:
ADP's employment report was positive, showing an increase in private employment of 192k in January, better than the consensus expectation of 172k.  We shall see on Friday if the non-farm payroll report is also strong.  It's worth noting that the December number was revised downward from +215k to +185k, so there's a lot of play in these numbers.  This is a positive number that would put upward pressure on rates in a vacuum.
On the other hand, the advance estimate of fourth quarter U.S. GDP showed a 0.1% contraction.  This is well below the consensus expectation of 1.0% growth.  Much of this is the result of a large drop in government spending, specifically military spending.  The other internal numbers were solid, which is leading a lot of people to discount the headline number.  There may be some validity to this stance, but the number is still a bad one, and should help to balance out any impact from the ADP number. 

           
This leads us into today's FOMC meeting announcement, which will be released at 2:15 today.  I think one of the big reasons for the recent Treasury and MBS sell-off is the speculation that the Fed will (relatively) soon curtail their asset purchases.  This statement is going to be carefully parsed for any signs of inflation hawkishness or economic optimism, and any leanings of this nature could cause a bond sell-off and a further increase in rates.
Now I don't think that either of these two scenarios is particularly likely, and I think the economy is sufficiently sluggish (and faces enough headwinds) that we will continue to see asset purchases for quite some time, but perceptions are probably more important than facts (and certainly more important than my opinion).  Perhaps the Fed will clarify its December statement that many interpreted as an imminent sign that the Fed would take its foot off the gas (the December FOMC statement sparked a Treasury/MBS sell-off), perhaps not.
In any case, there is some risk ahead if you're in the process of or thinking about getting a new mortgage.
Today's Links:
NYT: U.S. Economy Unexpectedly Contracted in Fourth Quarter.  Big time cuts to government spending, specifically defense.
McClatchy: Immigration Divides GOP.
Wired: U.N. Drone Investigator: If Facts Lead to U.S. War Crimes, So Be It.
Smithsonian: For 40 Years, This Russian Family Was Cut Off From All Human Contact, Unaware of WWII.
Mother Jones: Why Greenland's Melting Could Be the Biggest Climate Disaster of All.
Scientific American: The Real, and Simple, Equation That Killed Wall Street.
Ken Rosenthal: Exit Strategy For A-Rod.  There's an uncharacteristic amount of foolishness in this article, but it is still somewhat interesting.  Also, thank you, Gene Orza.
Bob Klapisch: A-Rod's Lasting Legacy Is As An All-Time Cheater.  Bob Klapisch must have written this column from high atop Mount Pious.
Youtube: Largest Wave Ever Surfed. Terrifying.
The New Yorker: A Red Light at Guantanamo.
National Geographic: What Does First-Century Roman Graffiti Say?  
Total Mortgage offers some of the lowest mortgage rates and fastest closing times of anyone in mortgage industry.  Refinancing your home loan today could slash your monthly payments.  Call us now at 877-868-2503 in order to speak with one of our licensed loan officers.    

---
Filed Under: Mortgage Rates
Tagged with: Current Mortgage Rates, Mortgage Rates, todays mortgage rates