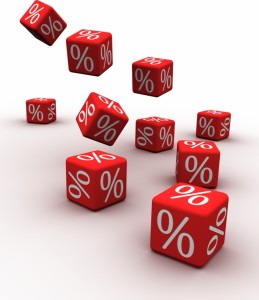 Yesterday mortgage rates were little changed on mixed economic data.  This morning mortgage backed securities are once again flat, and I don't suspect that we will see a whole lot of movement one way or the other.  I feel as though this is the calm before a storm of significant reports (GDP on Friday, FOMC announcement next Wednesday, and non-farm payrolls next Friday among others).  The aforementioned data definitely has the potential to cause rates to move, and if you're getting a mortgage in the very near term and you're risk-averse, you may want to consider locking your rate in now.
Want to save on your monthly mortgage payment? Click here for today's rates or call us today at 866-896-5826.
The only report that could potentially be of any real consequence this morning was March's Durable Goods Orders report.  Orders dipped by 5.7% following a 4.3% increase (revised down from a 5.7% increase) in February.  Some of this was anticipated as last month's jump was fueled by one-off aircraft orders.  Still, this report fell short of expectations of a 2.8% decline.  Notably, core orders (excluding transportation) fell by 1.4%, while expectations were for a 0.5% increase.  This is a fairly weak report that fits in with the slow-down in manufacturing that we've seen of late, but it doesn't appear to be so bad as to put significant pressure on rates.
That is more or less the totality of what is going on today – slow day.  We could delve into yet another discussion of the Fed's timing of QE tapering, but we may as well save that for next week when they meet.  As I said at the top, there is the potential that rates could be volatile next week.  If the Fed appears bullish on the economy and it seems that QE tapering will happen sooner rather than later, or if the jobs report significantly exceeds expectations, we could see an increase.  I don't think either of those things will happen, but if I could predict the future I'd be sitting on a beach atop a stack of money*.  Either way, it's worth being aware of the risk, especially if you're looking to lock your rate in the very near term.
*Feel free to apply this principle to all free advice you receive – "Is this person on a beach sitting on a pile of hundreds? – No.  Perhaps I will take all of this with a grain of salt."
Today's Links:  
Matt Taibbi: The NFL Draft Decoded, Part III.
Newsweek: What BP Doesn't Want You to Know About the 2010 Gulf Spill.  Incredible.
WSJ: Former Countrywide Executive Returns to Mortgage Bonds.
McClatchy: Bill Gates to Pitch New Strategy to Eradicate Polio by 2018. Step one: eliminate the morons that rail against vaccinations.
Frontline: The Retirement Gamble.  "Dying at your desk" is the new "retirement."
Reuters: What Ever Happened to France's Voice in Europe?
Mike Konczal: Are Student Loans Becoming a Macroeconomic Issue?
Businessweek: How Did the World's Rich Get That Way?  Luck.  Time and chance happeneth to them all.
The Onion: I Guess When My Older Brother Said 'Let's Bomb the Boston Marathon,' I Should Have Said No.
Mental Floss: 20 Words We Owe to William Shakespeare.
Business Insider: Now the Koch Brothers Want to Buy Chicago Tribune, LA Times, Et Al, To 'Make Sure Our Voice is Heard.'  And the Hartford Courant!
Charlie Pierce: The New Koch.
Dave Dayen: Banking Regulation: Closed for Business.
Total Mortgage offers some of the lowest mortgage rates and fastest closing times of anyone in mortgage industry.  Refinancing your home loan today could slash your monthly payments.  Call us now at 877-868-2503 in order to speak with one of our licensed loan officers.    

---
Filed Under: Mortgage Rates
Tagged with: Current Mortgage Rates, Mortgage Rates, todays mortgage rates