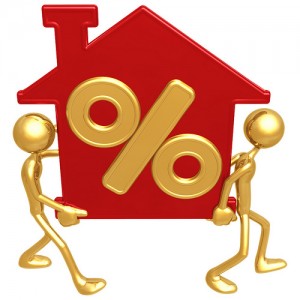 Yesterday mortgage bonds started off the day for the worse but quickly pared those losses and pushed into positive territory by lunch time.  The rally was sustained throughout the day, leading to somewhat lower mortgage rates.  This morning mortgage backed securities are down slightly, and I'll be somewhat surprised if we see any large net movements given the lack of economic data scheduled for today.  One gets the feeling that everyone is holding their breath waiting to see what Friday's employment report holds.
Want to save on your monthly mortgage payment? Click here for today's rates or call us today at 866-896-5826.
At the risk of beating a dead horse, the direction that mortgage rates take in the near future is going to be largely determined by what the Fed decides to do with regard to its stimulus programs (quantitative easing). The Fed is currently buying $85 billion in Treasuries and MBS per month in order to keep long term interest rates low.  At the last FOMC meeting the Fed seemed to imply that this program would be wound down by sometime next summer (although they emphasized that this would be data-dependent).  When this happened, mortgage bonds sold off wildly, leading to the largest one week jump in mortgage rates in a quarter century.
Since this time, a number of Fed members have tried to back off the perceived hawkishness of the statement (one of the more dovish members of the FOMC, William Dudley, speaks this afternoon, and there is the potential that bonds could get a little bit of a bump from his speech).  The most recent batch of Fedspeak has been one of the primary drivers of the small recovery that rates have staged over the past week.
Still, the gains of the past week or so could easily be wiped out if June's jobs report comes in above expectations on Friday.  The scheduling of QE-tapering is largely dependent upon two things: the employment picture and inflation.  If Friday's report is strong, the market could interpret this as a signal that QE-tapering will be nigh upon us.  This would likely be bad for mortgage rates.  If the report is weak, the interpretation could be that tapering will be delayed, and this should be beneficial to rates.
There is a lot of uncertainty right now, and if you're looking for a mortgage it is important to understand that there is some risk in waiting to lock in a mortgage rate.
Today's Links:
Forbes: The Origin of 'the World's Dumbest Idea': Milton Friedman.
Ritholtz: Housing Affordability Index: Still Worthless.
NYT: As Bond Market Tumbles, Pimco Seeks to Reassure Investors.
Der Spiegel: How the NSA Targets Germany and Europe.
Reuters: Firefighters Look to Make Headway Against Deadly Arizona Fire.
Charlie Pierce: The Nays of Texas.
Calculated Risk: CoreLogic: House Prices Up 12.2% Year-Over-Year in May.
WSJ: Banks Seek a Detente With New Consumer Bureau.
Total Mortgage offers some of the lowest mortgage rates and fastest closing times of anyone in mortgage industry.  Refinancing your home loan today could slash your monthly payments.  Call us now at 877-868-2503 in order to speak with one of our licensed loan officers.    

---
Filed Under: Mortgage Rates
Tagged with: Current Mortgage Rates, Mortgage Rates, todays mortgage rates