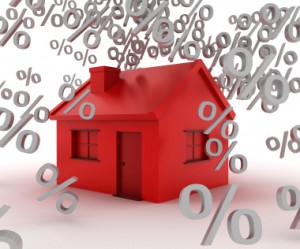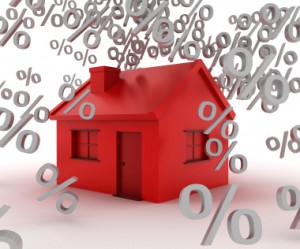 Mortgage rates improved yesterday, and will likely stay flat or improve somewhat today.  Yesterday's improvement was mostly a reaction to the previous Friday's sub-par jobs report (the markets were closed last Friday, so the reaction was delayed by a day.  There aren't any very significant economic reports due out today, so most of the market movement that we see will be a result of news (possibly out of Europe), past events, and rumors.
The Producer Price Index and Consumer Price Index are due out on Thursday and Friday of this week respectively.  These Indices should give us some idea of where inflation is headed, which will in turn inform us at least a little bit as to the chances the Fed undertakes further quantitative easing.  If there are signs that inflation is increasing, the chances of QE3 would likely diminish.  If inflation is under control, the chances of QE3 probably remain the same.
Personally, I think the chances of QE3 hinge on primarily on a handful of different factors.  The first is inflation.  Rising inflation would significantly reduce the chances of further easing.  I think the second factor is the situation in Europe.  If Europe continues to deteriorate and threatens to drag the U.S. into a renewed recession, the chances of QE3 would increase.  The third factor is April's jobs report.  March's jobs report was disappointing.  A second bad jobs report could be the beginning of a trend, which would also increase the chances of QE3.  The long-term trend for mortgage rates ultimately is going to hinge on the chances of (or the perception of the chances of ) QE3.  We should be able to make a more accurate determination in the near future.
So right now we are more or less in a holding pattern until later this week.  For now, rates will remain close to record lows.
Total Mortgage is committed to getting you the lowest possible rate.  To get information on our rates and products, call us today at 877-868-2503, or fill out the form to the right.
Today's News, Links, and Things I'm Reading:
NYT: In Europe, Unease Over Bank Debt.  Europe is pretty much a house of cards awaiting a slight breeze…
Dave Dayen: New Report Shows 26 Fortune 500 Businesses Paid Negative Tax Rate From 2008-2011. Taxes are for the little people.
ProPublica: The Great American Foreclosure Story: The Struggle for Justice and a Place to Call Home.
McClatchy: Consumer Watchdog Proposes Crackdown on Mortgage Companies.  More on this later.
Naked Capitalism: More Proof of Obama Mortgage Settlement Lies: Woefully Underresourced Investigation Not Fully Staffed Yet.  This is some BS that is being foisted upon the American people.
Ritholtz: Fukushima to Burn Highly-Radioactive Debris.  Fantastic idea.  This way it can become highly radioactive ash that will float up into the air and land in other places.  In particular, the west coast of the United States.  Great plan.
Bloomberg: Mystery of the Disappearing Bees: Solved!  Evidently the collapse of bee colonies is all due to a particular class of pesticide.  Now let's do something about it.
National Geographic: Space Pictures This Week.
Yahoo: UFO or Hoax? Aerial Video Over South Korea Stirs Speculation.
Slate: The Crisis in American Walking.  Is there really a crisis here?  If you live in a city, you can walk places.  If you live in the suburbs as I do, you can't really walk anywhere (unless you want to walk for a very long time).
Popular Mechanics: B-1 Pilots Turn Their Bombsights to the Pacific.
Slate: Fast Booze – A Guide to Getting Drunk in Fast Food Restaurants. Nothing pairs with McDonalds like a nice bottle of MD 20/20.  I recommend the Hawaiian Blue.
Housing Wire: California Lawmakers Align Opposition to FHFA REO Program. Banks inflate property bubble.  Property bubble collapses, banks are on the verge of failure.  Taxpayers bail out banks.  Banks foreclose on millions of homes.  Those homes are then rented back to former homeowners.  Something is wrong with this picture.
Total Mortgage consistently offers some of the lowest current mortgage rates, jumbo mortgage rates, and fha mortgage rates in the country.

---
Filed Under: Mortgage Rates
Tagged with: Current Mortgage Rates, Mortgage Rates, todays mortgage rates