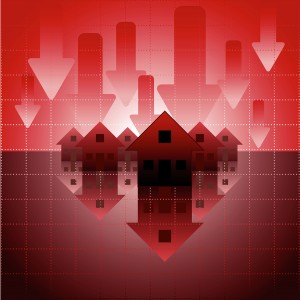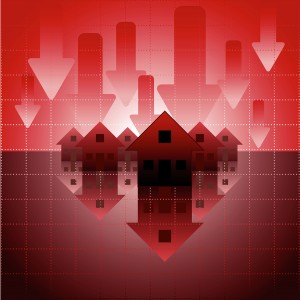 So mortgage rates matched all-time lows again, according to Freddie Mac's Primary Mortgage Market Survey.  The average rate on a 30-year fixed rate mortgage fell to 3.49%, matching late July lows.  It looks as though mortgage rates could very well continue to improve as a result of the Federal Reserve's stimulus program over the coming weeks, although I anticipate that we will still see a considerable amount of volatility as various world and economic events play out.
As I've mentioned for the past couple days, there's a lot of uncertainty in the world right now, from the presidential election (and its ramifications on the coming debt battle), to the situation in the middle east and its impact on oil prices, to slowing growth in China and economic stagnation in the U.S., to the situation in Europe, etc., etc.  The outcome of any of these events could have positive or negative ramifications for mortgage rates.  The point is that a continued downward trend in mortgage rates, while likely, is not guaranteed.
Today's economic news was pretty underwhelming.  Weekly initial jobless claims fell by 3,000 from the week before, which was revised up by 3,000 claims, making the weekly report a net "who cares, this all seems pretty meaningless".  The Philly Fed Manufacturing Index improved from -7.1 to -1.9.  While this is the fifth straight month of contraction, it is the highest level since May.  This is not as bad as the Empire State Manufacturing Index the other day, but is still fairly bad.  For the time being, I don't think any economic data will really have a large impact on mortgage rates unless it is either really bad or really good (compared to expectations).  This stuff simply doesn't move the needle when weighed against $85b in monthly Fed asset purchases from now til the end of the year, including $40b in mortgage backed securities purchases per month extending indefinitely into the future.
So we will see what occurs.  For now rates remain low.
Today's Links:
DOL: "In the week ending September 15, the advance figure for seasonally adjusted initial claims was 382,000, a decrease of 3,000 from the previous week's revised figure of 385,000. The 4-week moving average was 377,750, an increase of 2,000 from the previous week's revised average of 375,750."  Down 3,000, but last week revised up 3,000.  I'm really starting to doubt there is any point to the weekly number, and I suspect that even the 4-week moving average is marginally instructive.
Philly Fed: Manufacturing index rose from -7.1 to -1.9.  Still showing contraction for the fifth straight month, but highest reading since May.  The employment indicators are still negative, and flat.  Better than Empire State the other day, but certainly not good.
Bloomberg: FDIC's Hoenig Says Banks May Revisit Pre-2008 Risky Behavior.
Reuters: Obama, Romney Tiptoe Around Housing Morass as They Woo Voters. I'm sure they both have a secret plan for fixing the economy.
Tom Junod: The Eastwood Conundrum. Written prior to the chair incident.  Ever since he wrote "The Falling Man" I read more or less all of Tom Junod's stuff.
Counterparties: Your Very Tentative Housing Recovery.  Let's see what happens this winter first.  I still don't see where the fundamentals for a housing rebound are.  Doesn't really make sense except if supply is constricted or credit is loosening, because the factors that would spur demand don't seem to be there.  And I'm pretty sure credit is not loosening.
Yahoo: Pawlenty Quits as Romney Campaign Co-Chair.  Get out before the ship sinks.
Bloomberg: Deposit Flight From Europe Banks Eroding Common Currency.  I hear that Mario "I will do whatever it takes to save the Euro" Draghi is going to personally barricade the ATMs.
NYT: Struggling Young Adults Pose Challenge for Campaigns.  I'll tell you what I'm going to do: stay home on voting day.  I sort of feel that participation is a tacit endorsement of the utterly corrupt system that is in place.  It would be different if there were a viable third choice.
Project SHAME (Shame the Hacks who Abuse Media Ethics): Megan McArdle. The other profiles are pretty good as well.  Especially the one pseudo-intellectual master of the obvious Malcolm Gladwell.
SI: The Boy They Couldn't Kill.  I remember the whole Rae Carruth ordeal.  I had no idea that the baby didn't die.
Firedoglake: UK's Role in US Drone Strikes Challenged by Former Law Chief. It's not so much the drone strikes that bother me, but the potentially extra-legal nature of them, and the way that it blurs the lines between war and outright assassination.  I am actually very much in favor of unmanned aircraft that will keep our people out of harm's way.
National Geographic: Talk Like a Pirate Day? Not Even Pirates Spoke Pirate.
Charlie Pierce: Paul Ryan and the Jesuits, Cont'd. Ya know, it's beginning to seem like a distinct possibility that Paul Ryan is just not that bright.  But he works out a TON!
Scientific American: Will Water Become the Chief Commodity of the 21st Century? I look forward to the day when the goldbugs are stockpiling water.
Josh Brown: Mitt Romney vs. Mr Burns. If it seems like I've been hammering on Willard in the links a lot lately, it's because I have, because he deserves it, because he is a clueless plutocrat.
Mashable: How Applebee's Rebooted Its Marketing With an Inflatable Doll. If you eat at Applebee's because you live somewhere with few other options, or it is affordable, fine.  If you eat there when there are affordable non-chain options available, shame on you.
Total Mortgage consistently offers some of the lowest current mortgage rates, jumbo mortgage rates, and fha mortgage rates in the country.
---
Filed Under: Mortgage Rates
Tagged with: Current Mortgage Rates, Mortgage Rates, todays mortgage rates