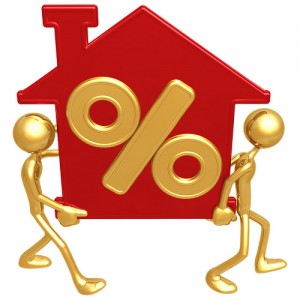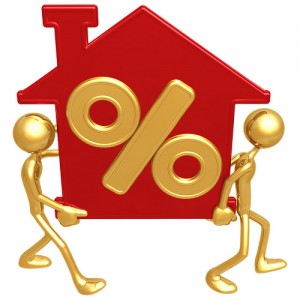 The last couple of days saw marginal increases in current mortgage rates following improvements the week prior.  Rates started to grind higher yesterday following the very noncommittal Fed statement, but are moving lower this morning.  Expect a marginal improvement today, but in all likelihood rates will remain range-bound around current levels.
The Fed statement didn't really shine any light on the near future of monetary policy.  The statement said that the economy has been "moderately expanding".  In a speech later in the afternoon, Bernanke seemed to be frustrated at the pace of the recovery, and seemed to indicate that the Fed is ready to do more.  This doesn't mean that the chances of QE3 really changed at all, because the Fed was ready to take additional steps if needed last month.  I am sure that the next two employment reports (and tomorrow's GDP report) will determine whether or not the Fed engages in QE3.  I think the odds of further easing are probably somewhere around 50/50 at this point.
Other economic data today is mixed.  Pending home sales increased by 4.1 percent from February to March, better than expectations of a 1.0% increase.  Weekly initial jobless claims fell by 1,000 to 388,000 after last week's figure was revised upward to 389,000 seasonally-adjusted claims.  Expectations were for a drop to 375,000.  The four-week moving average has now increased in three straight weeks, and is now at the highest point of the year.  The Bloomberg Consumer Comfort Index fell by the largest amount in a year.
Barring something unforeseen, it seems as thought rates will probably continue to fluctuate around current levels.  The GDP report comes out tomorrow, and the next employment report is due out on May 4.  The employment number in particular has the potential to shift the market, although I am anticipating another weaker than expected number.  Mortgage rates are likely to stay low for the near future.
Total Mortgage is committed to getting you the lowest possible rate.  To get information on our rates and products, call us today at 877-868-2503, or fill out the form to the right.
Today's News, Links, and Things I'm Reading:
Department of Labor: "In the week ending April 21, the advance figure for seasonally adjusted initial claims was 388,000, a decrease of 1,000 from the previous week's revised figure of 389,000.  The 4-week moving average was 381,750, and increase of 6,250 from the previous week's revised average of 375,000."  This is the third straight week the 4-week moving average has increased, and is now at its highest point of the year.  The next non-farm payroll report is on May 4.
Reuters: Euro Zone Woes Keep Banks Wary After Q1 Bounce.
Los Angeles Times: TSA Screeners Allegedly Let Drug Couriers Through LAX For Cash.  It's nothing more than security theater, folks.
The Big Picture: People Are Finally Figuring Out: Austerity is Stupid.  We knew this.  See following link:
Paul Krugman: That 1937 Feeling.
Calculated Risk: Housing Bottom Callers: Zelman, Thornberg. I am not buying that the housing market has bottomed.  Not at all.
Reuters: Greek Anger Keeps German Tourists Away. There's a lesson here somewhere.  When your country's government forces another county to adopt an economic policy that causes said country to go into a depression, maybe it is best not to flaunt your excess cash by going on vacation in that country.
ProPublica: News Corp. Exec Considered Enlisting Newspaper Editors in Lobbying Effort. Is someone going to jail over this phone-hacking thing?  I bet not.
AP: Jordan's Bobcats Could Become NBA's Worst Ever. It couldn't happen to a more deserving individual.
National Geographic: Auroras Pictured in HD From High-Flying Balloons. Very cool.
Bloomberg: Wall Street Tracks "Wolves" as May 1 Protests Loom. With an assist from their good buddy Mike Bloomberg, I'm sure.
FireDogLake: Our Fastest Growing Export is Assclowns. The Donald fits the description perfectly.
TPM: A Guide to the Many Investigations Into Sheriff Joe Arpaio. Speaking of assclowns…
PBS: Top Fed Official: "The Moment is Now" to Break Up Big Banks. The moment was three-four years ago, but now would work too.  Richard Fisher from the Dallas Fed is awesome.
Joe Posnanski: Dirty Dozen. The Royals have lost 12 in a row.
Total Mortgage consistently offers some of the lowest current mortgage rates, jumbo mortgage rates, and fha mortgage rates in the country.

---
Filed Under: Mortgage Rates