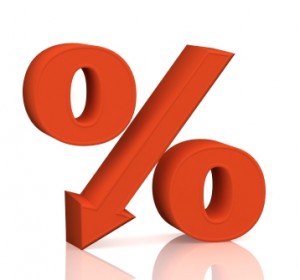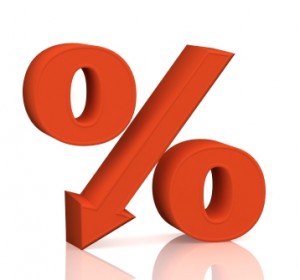 Current mortgage rates broke into record territory this morning.  Mortgage backed securities and Treasuries are rallying while stocks are selling off.  This is primarily a reaction to reports that growth in China is slowing.  China's first quarter GDP rose by 8.1%, less than the 8.4% anticipated by Wall Street.
In other economic news, The Consumer Price Index rose by 0.3% in March, while the Core CPI (ex-food and gas prices) rose by 0.2%.  This was slightly less than expectations, and could indicate that inflation is slowing.  Rising inflation would diminish the chances of more easing from the Fed (which would lower rates).  According to a WSJ article yesterday, economists appear to be increasingly convinced that another round of quantitative easing from the fed  is unlikely in 2012.  I still think it the chances of us seeing QE3 in 2012 are about 50/50.  At the very least, this report does not rule it out.
The University of Michigan found that consumer sentiment fell in a little bit in April.  The index dropped from 76.2 in March to 75.7 in April.  Consumer sentiment is still pretty weak, although improved significantly from a substantial dip last summer.
All-in-all, it looks as though mortgage rates will likely improve a little bit today, but I don't expect huge movement.  Next week is chock full of economic data.  We have the Case-Shiller Home Price Index, New Home Sales, Durable Goods Orders, the FOMC forecasts, Jobless Claims, Pending Home Sales, and GDP, not to mention a series of Treasury auctions.  Depending upon the firmness of this data, we could see mortgage rates continue into record territory or reverse course and go higher.
Total Mortgage is committed to getting you the lowest possible rate.  To get information on our rates and products, call us today at 877-868-2503, or fill out the form to the right.
Today's News, Links, and Things I'm Reading:
BLS: CPI Increased 0.3% in March, Core CPI (excluding gas and food) rose 0.2%.  This is pretty much in line with expectations.
Bloomberg: Fed Rift Over Rates Widens Amid Cooling Job Market.  Not even the Fed seems to know what it is going to do if the job market continues to slow.
Reuters: Embarassed by Rocket Crash, North Korea May Try Nuclear Test.  I sort of doubt they can pull this off.  Check out the following link.
Wikipedia: Ryugyong Hotel
Bloomberg: Big Banks Needed 485.6 Billion Euros for Basel Capital Rule.
Housing Wire: Democratic Attorneys General Push FHFA on GSE Principal Reduction.
Talking Points Memo: Justice Department to Sue Arizona Sheriff Joe Arpaio Over Civil Rights Abuses. The "World's Toughest Sheriff" is a publicity-seeking clown, and I hope he gets what is coming to him.
AP: Cutting-edge Navy Warship Being Built in Maine. It's a stealth destroyer.
Reuters: Google's Evil Stock Split.
Dave Dayen: State-Level Efforts Seek Accountability for Foreclosure Fraud, Justice for Homeowners.  I hope they are successful, but I'm not really holding my breath.
ProPublica: And You Throught it Was Just "Pink" Slime. Ugh.  I think the less I know about large scale food preparation, the better.
Slate: October Surprise – Why Israel May Feel Pressure to Attack Iran Before the U.S. Presidential Election.
Bloomberg: Dimon Vows Fight Moynihan Lost Over Claims From Mortgages. Is the most galling think about the (ongoing) bank bailouts that they seem completely and utterly unapologetic for the things that they did?
Total Mortgage consistently offers some of the lowest current mortgage rates, jumbo mortgage rates, and fha mortgage rates in the country.

---
Filed Under: Mortgage Rates
Tagged with: Current Mortgage Rates, Mortgage Rates, todays mortgage rates