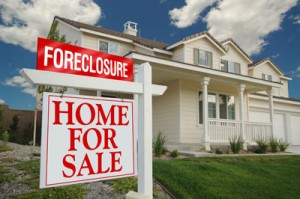 Brief update:
Today CoreLogic released its National Foreclosure Report for 2012.  The foreclosure situation is improved, with "only" 767,000 completed foreclosures in 2012, down from 830,000 completed foreclosures in 2011.  Foreclosures were also down slightly month-over-month, falling from 58,000 in November to 56,000 in December.  Notably, the inventory of foreclosures dropped from 1.2 million in December 2012, down from 1.5 million in December 2011.  While these numbers are still outrageously high, they are improved.  Remarked Mark Fleming, chief economist for CoreLogic:
"The most encouraging foreclosure trend reported here is that the inventory of foreclosed properties is almost 20 percent smaller than a year ago. This big improvement indicates we are working toward resolving the backlog of the most distressed assets in the shadow inventory."
About 4.1 million foreclosures have occurred since 2008, a fact conveniently ignored when discussing Tim Geithner's recent retirement from Treasury.  

---
Filed Under: Mortgage Rates
Tagged with: Corelogic, foreclosure