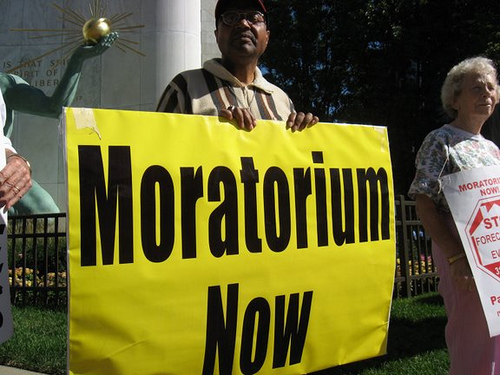 An increasing number of state legislators, attorney generals, and judges are taking issue with the foreclosure procedures used by GMAC/Ally.  Alleged forgery of affidavits used in the foreclosure process (as well as other potential illegal behavior) may tie up thousands of foreclosures in litigation.
Now Connecticut Attorney General Richard Blumenthal, has asked the state Judicial Department to suspend all foreclosures for 60 days while foreclosure practices are investigated.  Blumenthal remarked:
"This freeze should stop a foreclosure steamroller based on defective documents and enable effective remedies.  The actions of GMAC/Ally and JP Morgan are inexcusable, a possible fraud on the court undermining the integrity of the legal process and consumers' ability to fight foreclosures."
This follows a Reuters report that a Maine judge "ordered GMAC/Ally to cover borrower's attorney's fees, in foreclosure case where official signed affidavit without reading the contents".  The judge accused GMAC/Ally of "flagrant disregard" for proper affidavit procedures despite court orders to follow procedure.
Additionally, Illinois Attorney General Lisa Madigan is demanding a meeting with JP Morgan Chase to determine whether or not the company violated state laws in foreclosure proceedings.  I will bring you more news as this story develops.

---
Filed Under: Mortgage Rates
Tagged with: epic failure, foreclosure, Mortgage, Mortgage Rates, Total Mortgage