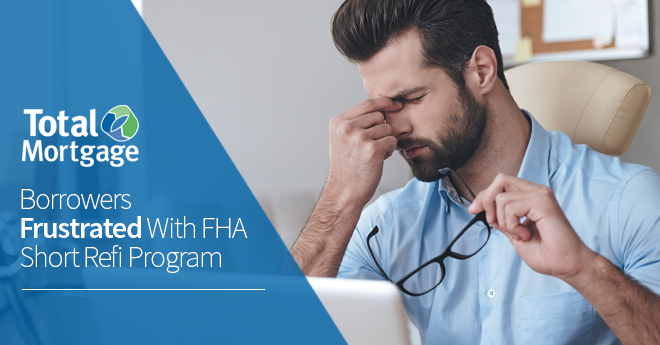 On September 7th, The FHA started its short refi program.  The program is designed to help underwater borrowers refinance their mortgages.  Typically, borrowers with negative home equity are unable to meet the loan-to-value ratios that lenders require to get a new mortgage.  Thus these underwater borrowers are precluded from refinancing their mortgages into today's historically low rates.  According to the FHA, the program would potentially assist 500,000 to 1.5 million underwater borrowers refinance their mortgages (for complete details on the program, click here to read the FHA's mortgagee letter).
On September 22, I posted a short blog asking our readers whether or not their lenders were participating in the FHA Short Refi program.  It has been one of the most read and most commented blogs I have posted.  Although it is by no means a scientific poll and it has an admittedly small sample size, the comments are pretty telling.  I have yet to hear from anyone who has been able to take advantage of the program.  Here are some sample comments:
"You would think it would be in the banks' best interest to lose less money with a short refi as opposed to a short sale or REO where they also have to pay 6% to a realtor".
"Spoke with Wells Fargo several times over the past three weeks about this program and during the latest call yesterday was told that they would not participate".
"An indepedent loan officer I'm working with has said that no banks are participating in the short re-fi program".
"I also talked to BofA countless times about the short-refi and most of them have no idea what I was talking about.  [They] keep on transferring me around with no answer other than they are still evaluating the program".
"I would like to know if even one lender has agreed to participate.  Like we have all come to realize, there really is not incentive to help people that are still paying".
"I tried contacting my lender CitiMortgage several times in the past couple of weeks.  At first the consistent reply from the reps was that CitiMortgage has not decided whether to implement FHA short refinance or not.  After persistent efforts, one of the reps told me last Friday (9/17) that CitiMortgage has taken a decision NOT to implement it".
These are just a few of the comments that I received.  Borrowers are extremely frustrated and angry, and frankly, I don't blame them.  This program is entirely dependent upon the voluntary participation of lenders, which does not appear to be forthcoming.  The program was designed to help 500,000 to 1.5 million borrowers.  I have yet to hear from anyone who has been helped by it.  Possibly more lenders will participate down the road.  Possibly the program will be modified so there is more incentive for lenders to participate.  Possibly there are many people who are using short refi that aren't vocal about it.  Maybe I'm just really far off base here (wouldn't be the first time).
So I reiterate my original question: have you (or anyone you know) been able to utilize the FHA Short Refi program?  If you have (or have not) let me know in the comments section below.

---
Filed Under: Mortgage Rates
Tagged with: FHA short refi, FHA Short Refinance, fha short refinance program, Mortgage, Mortgage Rates, Total Mortgage