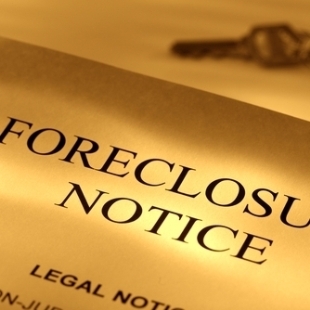 In the last five years, about six and a half million homes were lost in the United States due to foreclosures.  New information from the Mortgage Bankers Association indicates that another 4.3 million more homeowners are seriously delinquent on their mortgages.  This is a huge number of homes, many of which will eventually be put on the market at reduced rates will continue to weigh on housing prices for some time to come.
At the end of 2011, CoreLogic estimated that 11.1 million homes with mortgages were underwater (owed more on their mortgage than they were worth).  This accounts for 23.1 percent of residential homeowners with mortgages.  Total negative equity is $750 billion, or about $68,000 per home on average.  These underwater homeowners are far more likely to become delinquent or go into foreclosure than those who have home equity (assuming they are not already delinquent or in foreclosure).
Foreclosure starts had been down for several months before surging in March, rising 33% month-over-month.  Foreclosures were down largely as a result of moratoriums and delays due to the robo-signing crisis and various investigations into foreclosure fraud. However, foreclosure inventories are at all time highs, now totaling 2.2 million homes.  Eric Dash wrote an article in the New York Times over the weekend that discussed the impact that bank owned real estate is having on the housing market.  The article says that:
"Economists now worry that the rise in lender-owned homes could create another vicious circle, in which the growing inventory of distressed property further depresses home values and leads to even more distressed sales."
The problem is pretty obvious.  Many distressed properties are in pretty good shape, and compare favorably to non-distressed properties (with regard to condition and age of the home).  Studies from RealtyTrac and MIT have shown that a foreclosed home typically goes at about a 25% discount versus a non-foreclosed home.  Non-distressed homes in areas with significant amounts of foreclosed properties will have to be discounted in order to compete.  This causes widespread downward pressure on home prices simply through market competition.  This is in addition to the downward pressure that results from a huge overhang of homes and not enough demand for them.  Major home price indices have been falling since the expiration of the home buyer tax credits last year:
The CoreLogic Home Price Index for March (which is an average of January, February, and March) showed a 7.5% year-over-year price decline, with declines accelerating from 5.8% y-o-y in February.
The FHFA Home Price Index (which is only purchases) was down 1.6% in February, and down 5.7% year-over-year.
The S&P/Case-Shiller Home Price Index for February (which is an average of January, February, and March) showed a 3.2% year-over-year decline for the 20-city index, down 32% from the peak of the market (within a hair's breadth of a double dip).
The RadarLogic RPX Home Price Index is at the lowest point since March of 2003, and is 36% below it's peak in mid-2007.
Until the flood of foreclosures is slowed, and the fundamental disparity between supply and demand is corrected, we will continue to see prices decline, it's only a question of how far they have to fall.

---
Filed Under: Mortgage Rates
Tagged with: delinquency, foreclosure, Mortgage, negative equity