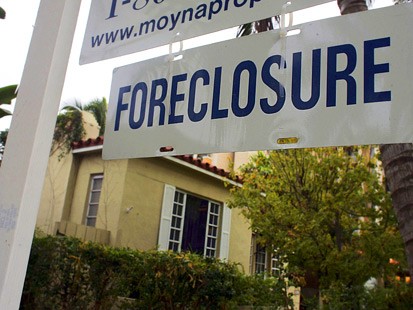 Next year is not likely to be a good one for the housing market.  The reasons for this are multifold.  In a post yesterday I discussed what I see as an inevitable decline in home values in the coming year.  In this post I want to discuss what I see as another 2011 inevitability: an increase in foreclosure activity.
According to data provider RealtyTrac, foreclosure activity was down in November.  There were 262,000 foreclosure notices issued, which is down 21 percent from the month prior and down 14 percent from the previous year.  In fact, this was the first time since February 2009 that foreclosure notices dropped below 300,000.  On the face of it, this appears to be a good thing.  In reality, the decrease can be directly attributed to foreclosure moratoriums issued by major lenders due to the incredibly sloppy paperwork that resulted in the whole robo-signing fiasco that is yet unresolved.  The decrease in foreclosure activity simply amounts to a stay of execution for many Americans who are in dire financial straights.
RealtyTrac Senior VP Rick Sharga commented:
"In the first quarter, we really anticipate seeing a pretty rapid acceleration of foreclosure proceedings as everybody catches up."
All the lenders that suspended their foreclosures have since "evaluated" their processes and paperwork and are set to resume foreclosures.  According to a December 15th Reuters article, Bank of America intends to increase foreclosure filings in 2011.  Said Barbara Dosoer, President of Bank of America's home loans division:
"We feel comfortable with the results we're getting, so starting in January you will see a ramp-up [in foreclosures]".
The government's foreclosure prevention programs aren't helping either.  In particular, the Home Affordable Modification Program (HAMP), which is the federal government's flagship foreclosure prevention program, has been roundly criticized by the media and by government watchdogs such as the Congressional Oversight Panel for being generally "ineffective".  The redefault rate on HAMP modified loans is currently at 21 percent, and the Treasury itself estimates that the rate could rise to 40 percent or more by the time it is all said and done.
Moody's predicts that foreclosures will increase from about 1.8 million in 2010 to 2.1 million in 2011.  Nearly 25% of homeowners in the United States are underwater on their mortgages, and another 25% are nearly underwater.  If home values do end up declining in 2011 (as many are predicting), many of these homeowners will be in increased danger of default.
It is worth noting that there are some pending issues that could mitigate the number of expected foreclosures:
Not everyone seems as satisfied with the banks self-investigations as they are.  For instance, Judge Stuart Rabner, the Chief Justice of the New Jersey State Supreme Court threatened to suspend all foreclosures by major banks in the state unless they can definitively show they are in compliance with state law.  Judge Rabner said that the major lenders (Bank of America, Wells Fargo, JP Morgan Chase, OneWest Bank, Citigroup, and Ally Financial) were singled out because of a "public record of questionable practice".  In addition to this, the attorney generals for Arizona and Nevada are suing Bank of America for alleged foreclosure fraud.  Further, the attorneys general for all 50 states are conducting a joint investigation into mortgage fraud (although I am rapidly losing what confidence I had in that endeavor).  There are similar lawsuits across the country, any of which could affect the number of foreclosures we expect to see next year.
Despite all the uncertainties, I suspect we will see a record number of foreclosures take place in the United States in 2011.

---
Filed Under: Mortgage Rates
Tagged with: foreclosures, Mortgage, Mortgage Rates, Total Mortgage